Miners and Homesteaders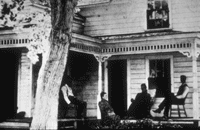 Nearly half of the miners who came in search of riches in the 1860s were immigrants from countries including Scotland, France, Mexico, and Chile. Pablo Flores, a Mexican miner, first discovered silver at Cerro Gordo in 1865. The area eventually produced over $13,000,000 in silver, lead, and zinc. Other newcomers, using the Homestead and Pre-emption Laws to settle on Paiute homelands, farmed and raised livestock to support the mining camps.
After 1880, a decline in mining reduced demand for local farm products. With no adequate transportation to outside markets, the Owens Valley's economy wilted until the narrow gauge Carson and Colorado Railroad was built on the east side of the valley. It provided an adequate, though expensive, means of shipping livestock and crops. By 1885, seven major canals provided Owens River water to valley farms.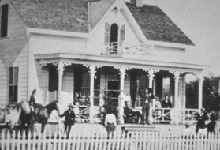 John Shepherd homesteaded 160 acres near Manzanar in 1864. By the late 1880s he owned 1,300 acres. He employed Paiute men and women as field workers and as laborers on a toll road to the Panamint and Darwin mines east of the Owens Valley.


Last updated: April 28, 2020