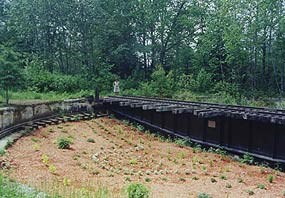 Mid-may through September: No regular hours; call for appointment (207-389-3495).
Bangor and Aroostook Railroad Turntable
Saint Francis Historical Society
1074 Main Street
St. Francis, Maine 04774
At one time St. Francis was the end of the line for the Bangor and Aroostook Railroad. The first trains ran on wood, then coal and finally diesel. The turntable at St. Francis was built in 1904 to turn the locomotives around for return trips as their controls were not configured for extended periods of running in reverse. The turntable was used into the 1980s.
The local trains went to two different branches, the St. Francis branch and the Fort Kent branch, which also went to Madawaska and Eagle Lake. In 1936 the 45-minute trip between St. Francis and Fort Kent cost 35 cents! During World War II troops provided the major business for the railroads.
Train service to St. Francis stopped in 1990. Transporting goods by truck was faster. In 2001 private funds were donated to restore the turntable and landscape the St. Francis Historical Society grounds.