Historic Governor Brann Schoolhouse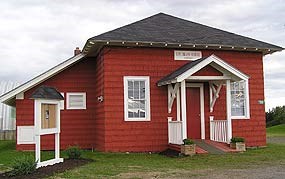 Hours and times vary during the summer.
The schoolhouse is located one mile south of Van Buren, Maine.
Built in 1934 and named for then-governor Louis J. Brann, the building has been restored to its original condition (except for a modern furnace) with the original paint scheme, hard wood floors, and a "two holer." The school closed in the1950s. The Town of Cyr Plantation (population 117) now uses the building for a polling station and for their annual town meetings.

The Cyr Plantation, named after the numerous Cyr's who lived in the vicinity, was organized as a plantation in 1870. In 1879, the settlement was principally on the stagecoach-line from Caribou to Van Buren (Maine), known as Caribou Road. Throughout the century, there were people living on rear lots of the Cyr Plantation. At one time, two sawmills and a starch factory were in operation. Today Cyr Plantation is a full township with an area of approximately 6.5 square miles. The township with its reddish soil, yields good crops of wheat, oats, buckwheat, and its famous potatoes!
Last updated: April 9, 2013