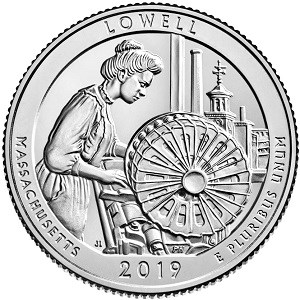 Lowell National Historical Park America the Beautiful Quarter Launch - February 6, 2019
Save the Date- February 6, 2019! Lowell National Historical Park and the United States Mint are pleased to announce that the date and place have been set for the Launch event for the Lowell Quarter.
The Quarter Launch and Coin Exchange will take place on Wednesday, February 6, starting at 10 a.m. at the Lowell Memorial Auditorium (50 East Merrimack Street). In case of extreme weather, a snow date of February 7 at the same time has been set.
There will also be a coin forum presented by the United States Mint on Tuesday, February 5 at 6 p.m. at the park visitor center at 246 Market Street. Both events are free and all are welcome to attend. Check back here for more details coming soon, or visit the Mint's event-
https://www.facebook.com/events/192371531688832/
.

The image is the actual quarter as it will be minted. It's a beautiful design and highlights so much of Lowell's story, from women workers to technology to historic preservation. The design was created by Mint Artistic Infusion Program artist Joel Iskowitz, and splendidly realized in three dimensions by Mint sculptor Phebe Hemphill. We can't wait to see the quarter in person!