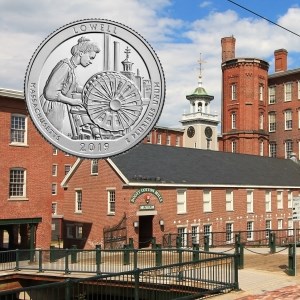 The Lowell National Historical Park Quarter Is Officially In Circulation!
Looking to get your very own Lowell National Historical Park quarter? Many downtown banks have rolls of quarters available for exchange. Check with your local bank to see if they have rolls available.
Thank you to Jeanne D'Arc Credit Union for facilitating the coin exchange at yesterday's quarter launch! Thousands of brand new quarters are now in the hands of community members and coin collectors. The downtown Jeanne D'Arc Credit Union branch has rolls of new Lowell quarters available.
The Eastern National museum store at Lowell National Historical Park will be receiving commemorative sets of quarters and other quarter merchandise in the near future. We will post on our social media accounts when these new products arrive. (Lots of other great Lowell National Historical Park merchandise available in the museum stores in the meantime, so stop on by!)
Join Us for the Lowell Quarter Launch and Coin Exchange
Lowell Memorial Auditorium, February 6, 2019, 10 a.m.
LOWELL, MA- Lowell National Historical Park is reopened with winter programs, events, and attractions back up and running. The Lowell National Historical Park (NHP) Quarter Launch & Coin Exchange will take place on Wednesday, February 6, 2019 at 10 a.m. at the Lowell Memorial Auditorium (50 East Merrimack Street). The event, presented by Lowell NHP in partnership with the United States Mint, provides an opportunity for the public to acquire the Lowell NHP quarter, the 46th coin released in the US Mint America the Beautiful Quarters® Program. The United States Mint will also host a coin forum Tuesday evening, February 5, 2019 from 6:30 p.m - 7:30 p.m. at the Lowell National Historical Park visitor center (246 Market Street). The forum provides a unique opportunity to talk with a United States Mint representative and get an inside look at the Mint's programs and products. Both programs are free and open to the public.
The Lowell National Historical Park Quarter Launch & Coin Exchange will include remarks from former Congresswoman Niki Tsongas, National Park Service Northeast Region Deputy Director Rosalyn Fennell, and Acting Associate Director of the United States Mint Marc Landry; musical performances by the Lowell High School band and chorus; and a traditional coin pour to launch the Lowell NHP quarter into circulation. Lowell NHP Superintendent Celeste Bernardo and park partners Lowell City Manager Eileen Donoghue, University of Massachusetts Lowell Chancellor Jacqueline Moloney, Community Teamwork, Inc. Chief Executive Officer Karen Frederick, and Coalition for a Better Acre Executive Director Yun-Ju Choi will emcee the event.
Following the program, all children 18 and under in attendance, including all Lowell Public School Fourth Graders, will receive a new Lowell NHP quarter from the United States Mint. The public is then invited to acquire Lowell NHP quarters at face value ($10 per roll, one roll minimum/ten roll maximum, cash only accepted). Through this coin exchange, program attendees will be the first in the country to own a circulating Lowell NHP quarter.
The Lowell Development & Financial Corporation (LDFC), a non-profit development corporation created to assist in the economic revitalization of Lowell, is a partner in the event. The LDFC has partnered with the Lowell NHP on major development projects in the city of Lowell and has done so with its partners in the lending field; Align Credit Union, Eastern Bank, Enterprise Bank, Jeanne D'Arc Credit Union, Lowell Five, Salem Five, TD Bank and Washington Savings Bank. These same lending institutions are supporting and participating in the Lowell NHP Quarter Launch & Coin Exchange.
Acting Associate Director Landry will be available for media interviews before and after the quarter launch on February 6, and at the evening coin forum on February 5. Interviews may be arranged at the event with the staff of the United States Mint. For any questions, please contact park public relations specialist Phil Lupsiewicz at (978) 275-1705.
The design of the Lowell NHP Quarter was created by artist Joel Iskowitz and sculpted by sculptor/engraver Phebe Hemphill, and was selected in August 2018 from among 18 designs submitted by members of the Mint's Artistic Infusion Program. The design weaves together the key elements of the human story of the industrial revolution and its legacies, innovations in technology, and the preservation of the industrial cityscape. In a very compact space, the design conveys a broad range of Lowell National Historical Park's stories and themes.
The public is invited to explore 1840s mill life with the United States Mint's new chose your own adventure game
https://www.usmint.gov/learn/kids/games/textile-tales
. Teachers can also share the story of Lowell's role in the industrial revolution with their students using free lesson plans from the United States Mint found at
https://www.usmint.gov/learn/educators/lesson-plans/technology-and-labor-reform-the-role-of-lowell-in-the-industrial-revolution
.
For more information about Lowell National Historical Park, visit
www/nps.gov/lowe
, connect with us on social media at #LowellNPS, or call 978-970-5000. And, look for additional upcoming happenings at the park for 2019.