Abbott Lawrence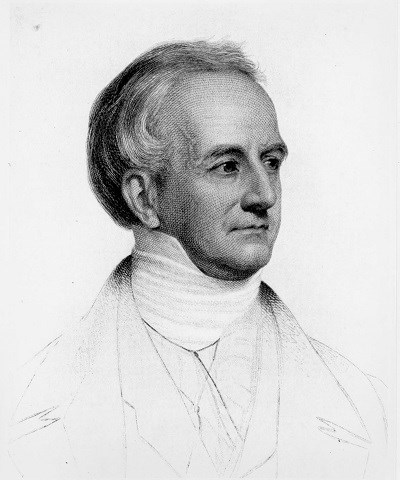 Introduction
"The name of this excellent man and citizen is known and respected throughout the Union."

- Statesmen of America, 1846
Author Unknown
Abbott Lawrence was born in Groton, Massachusetts on August 16, 1792 and passed away 63 years later. Not only was he one of the wealthiest men to come out of the fledgling New England textile industry but the businessman, politician, and philanthropist was cited by many as being the founder of the New England textile industry.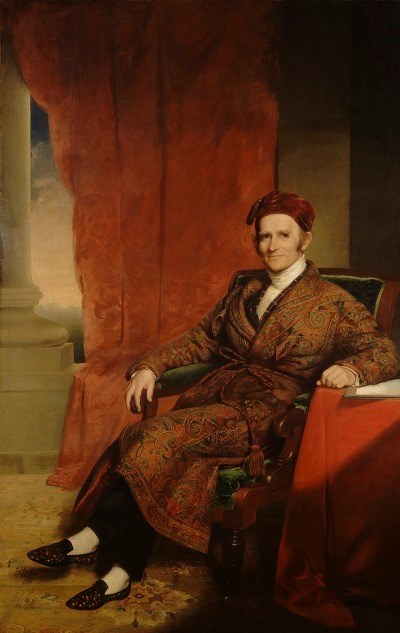 New England Roots
Abbott Lawrence was born the son of Revolutionary War officer Samuel Lawrence, who claimed he took a British bullet through his hat during the Battle of Bunker Hill.
Lawrence's older brother Amos took Abbott under his wing when Abbott was 15 years old in 1808 as an apprentice clerk to his work in Boston. Abbott was admitted as a partner in 1814 and traveled quite a bit in his job, including some time in Europe.
The brothers used their partnership to import goods from Britain and China and then expanded into the new textile industry in Lowell along the Merrimack River north of Boston. Abbott soon became a self made man and invested large sums of money in calico manufacturing in Lowell. He also was a prime mover in railroads in the 1820s when the idea was still being questioned throughout the region. Lawrence helped finance a rail line from Boston to Providence in 1835.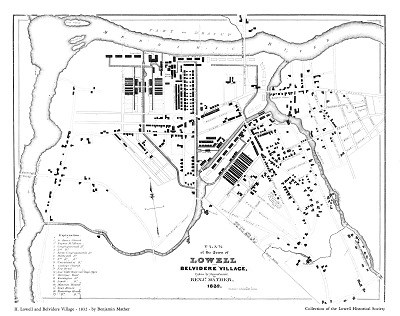 "Enterprising Elite"
Lawrence was a member of a group which was later referred to as the Boston Associates. That included Patrick Jackson, Kirk Boott, Nathan and William Appleton and Lawrence's brother, Amos. Aside from making textiles, one of their first challenges was as directors of the Suffolk Bank. This was, in effect, the central bank of New England in 1818. The Second Bank of the US in 1820 stood ready to perform many of the same functions as the Suffolk Bank, but attacks on the bank and the Associates by President Andrew Jackson for their "Holy Alliance" led the Associates to lose interest in national banking.
Henry Clay continued trying to charter a national bank through Congress but got little help from the Associates. Lawrence wrote in 1841 that "the country was better off without a bank." With such national volatility around banking and politics, New Englanders had the best of it as the Associates tended to their indigenous Suffolk Bank.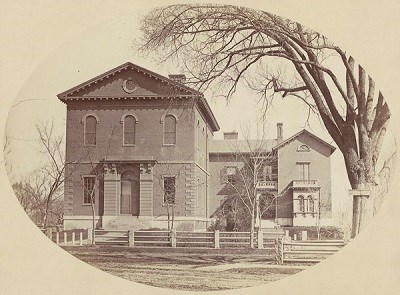 Financial Wizard
Lawrence had eight trusts as an Associate, all closely guarded. One legend said Abbott followed his brother Amos into Boston with less than $3 to his name and that his father "mortgaged the farm to give his sons money." Abbott said later his family was worth "perhaps $4000" which was quite a bit in those days. Abbott also owned the second largest private library in Boston.
Abbott Lawrence put together modern technology and large sums of capital to fuel the new born Industrial Revolution. Under his domain were not only textiles, but selling houses, banks, insurance companies as well as railroads. He was also gaining a reputation for charity and conservatism.
Lawrence made philanthropy the driveshaft to his success as a man the way the driveshafts along the Merrimack River made a success of his mills. He was a realist who was easily the most ambitious of the Lawrence brothers, who put down close to a million dollars in their life for philanthropic purposes.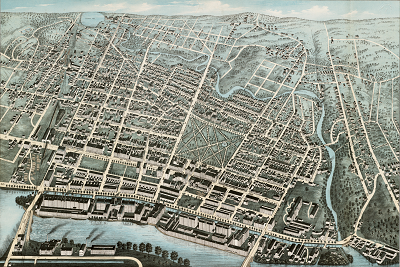 Founding Father
By the 1830s, the brothers were major stockholders of the Tremont Company in Lowell and went on to develop the city of Lawrence, north on the Merrimack River, which was a carbon copy of Lowell. Helping in this venture as directors were Nathan Appleton, Ignatius Sargent, William Sturgis and Charles S. Storrow. The city charter was accepted by the people on March 29, 1853.
In 1847, Lawrence gave Harvard University $50,000 to establish the Lawrence Scientific School. He gave $10,000 to the Boston Public Library. He built lodging houses for the poor in 1845, and pushed for education for the lower class. He supported Lawrence Academy and was active in Boston's Unitarian Church.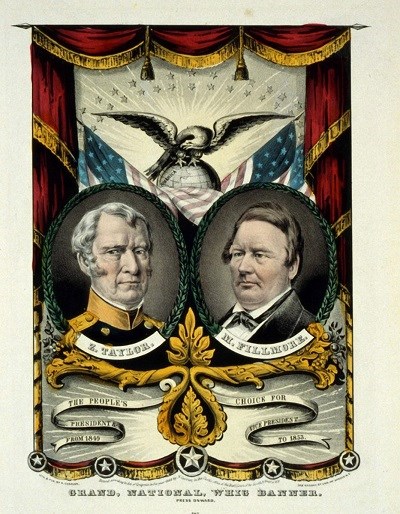 Political Career
In 1834, Abbott threw his hat in the political ring and was elected as a Whig representing Massachusetts to the 24th Congress. He skipped a term and was reelected in 1839 to the 26th Congress. He was appointed commissioner to settle a US-Canada border dispute in 1842.
As a member of Congress he battled with Daniel Webster for top spot. He denounced "His Accidency" John Tyler when Tyler took over the President's role on the death of William Henry Harrison in 1840, being the first time this had happened in U.S. history.
In 1848, he became the unsuccessful Whig candidate for Vice President on the Zachary Taylor ticket, losing on the second ballot to Millard Fillmore. But when Taylor was elected as 12th President, Lawrence was offered a cabinet post. He turned it down to be minister to the Court of St. James in Great Britain, where he gained a good reputation for his duties.
Had Lawrence been nominated over Fillmore for vice president, he would have succeeded to become the 13th President of the US, having succeeded Taylor when Taylor died in office.
In 1852, Lawrence again joined the Whig camp, but he was dissatisfied with candidate Winfield Scott's stand on slavery and estranged himself from the party. He returned to power in Massachusetts, but by 1854 lost out to the Know Nothing Party, his Whigs getting just 10% of the vote. Lawrence died on September 18, 1855, two months before the Whigs' final campaign.
Robert Winthrop, one of the few men still living with a pre-Revolutionary War elite status, eulogized Lawrence at the time of his death as the most important man in Boston. Lawrence is buried in Mount Auburn Cemetery in Cambridge.
Last updated: November 9, 2018