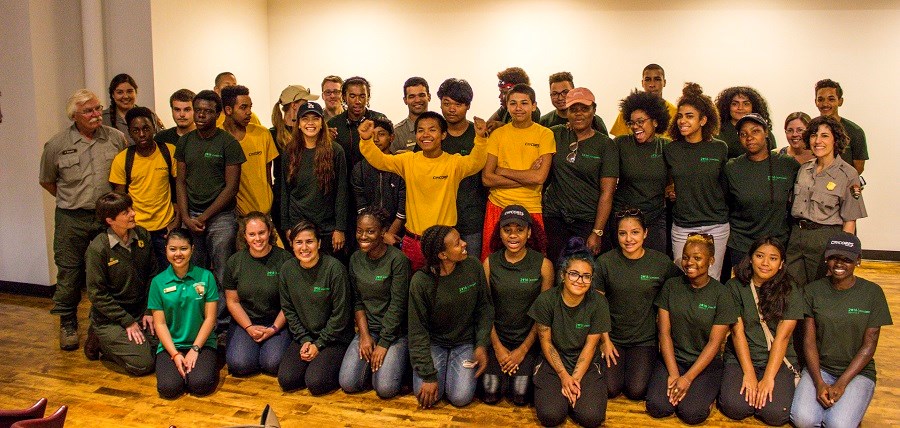 Lowell Spindle City Corps Receives National Park Service Northeast Region Volunteer Service Award
The Lowell Spindle City Corps, a youth stewardship development partnership program with Lowell National Historical Park and Community Teamwork, Inc., received the National Park Service Northeast Region
George and Helen Hartzog Award for Outstanding Service
in the youth group category. The award recognizes outstanding youth contributions of volunteer service to the community of Lowell including assisting park staff with preparations for the Lowell Folk Festival and their efforts with CTI and the
Toys for Tots
program.
The Northeast Regional Director of the National Park Service, Michael Caldwell, praised the work of Abby Tourville, Spindle City Corps Coordinator, Community Teamwork, Inc. and the members of the Spindle City Corps for their time, service and devotion to Lowell National Historical Park, the National Park Service and to serving their community. The invaluable partnership program helped develop a mindset of stewardship and excitement during the National Park Service Centennial year.
To learn more about the Lowell Spindle City Corps and park offerings during this centennial year of the National Park Service, including the Centennial Day Events – Flag raising at City Hall on August 25
th
and Bringing the Park to the People on August 27
th
– stop by the Visitor Center at 246 Market Street, contact Lowell National Historical Park at (978) 970-5000, or visit
www.nps.gov/lowe
.