Research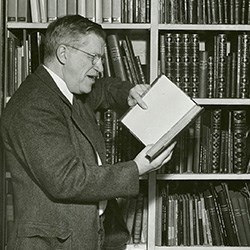 The Longfellow house has served researchers for almost 100 years. The poet's grandson, H.W.L. Dana, carefully collected and organized family papers and encouraged their use by scholars. The rich archival and museum collections at Longfellow House–Washington's Headquarters NHS span pre-contact archeology, colonial history, and modern resource management records. The archival collections—particularly rich in nineteenth century women's papers—complement the papers of Henry Wadsworth Longfellow held by Houghton Library, Harvard University. Regular internal research by park staff informs preservation, public programs, and publications. The collections today are actively used by academics, students, genealogists, and preservationists studying topics including literary criticism, art history, abolition, education, LGBTQ+ history, and more.
Research in the archives and museum collections is by appointment. Please call (617) 491-1054 or email curatorial staff to make arrangements for research sessions. We will respond to remote research inquiries as quickly as possible, but please be aware it may take up to three weeks. Please consult our access policies before visiting the site.
Researchers are encouraged to start their search by consulting finding aids to the archival collections. Selected digitized content from these archival collections is available on our NPGallery Digital Archives website.
The park maintains a reference library of published primary and secondary sources, including rare books without Longfellow family provenance. (This collection is managed separately from the Longfellows' historic library.) Find a catalog of the LONG reference library in the NPS LIBRIS Discovery Portal.
Publications
The breadth of subject matter represented in the collection is reflected in the wide range of topics addressed by researchers. A selection of works based in part on research conducted in the site's collections includes:
Musacchio, Jacqueline Marie. "Carrying Home Renaissance Florence in Extra-Illustrated Copies of George Eliot's Romola." Chapter in Italy for Sale: Alternative Objects – Alternative Markets. Boston: Brill, 2023.
Sjoblom, Oa and Marieka Kaye. "Conservation and Study of Simon Pokagon's Birch Bark Books." Book and Paper Group Annual 41, 2022. p. 105-121.
Jeffrey Hotz. Longfellow's Imaginative Engagement: The Works of His Late Career. March 2022.
Yoshimi Yamamoto. "Japanese Tattooing as Souvenirs for Foreign Travelers in the Late 19th and Early 20th Century." Japanese Studies, Vol. 63. 2021. (<研究論文>「日本みやげ」としてのイレズミ : 十九世紀から二十世紀初頭における外国人観光と彫師 43-83 山本 芳美)
Anne Strachan Cross. "'The Pictures Which We Publish To-Day Are Fearful to Look Upon': The Circulation of Images of Atrocity During the American Civil War." History of Photography. 2021.
M. M. Gudkov. "An American on the 100th anniversary of Leo Tolstoy in the USSR." Rossica. Literary connections and contacts. No. 1. pp. 19-54. 2021.
Jeffrey Lantos. Why Longfellow Lied: The Truth about Paul Revere's Midnight Ride. 2021.
Elisabeth Gitter. "Fanny Appleton's Change of Heart" in The Massachusetts Historical Review. 2020.
Jamie M. Carr. Niagaras of Ink: Famous Writers at the Falls. 2020.
Nicholas Basbanes. Cross of Snow: A Life of Henry Wadsworth Longfellow. 2020.
Hilary Iris Lowe. "The Queerest House in Cambridge." The Public Historian. 2019, 41 (2): 44–69.
Christopher Phillips. The Hymnal: A Reading History. 2018.
Angela Shpolberg. "On the 'Russo-American Fever': Henry Wadsworth Longfellow Dana and the Gorki Fund." The New England Quarterly.Vol. 88, No. 3 (September 2015), pp. 509-526
Jeffrey Amestoy. Slavish Shore: The Odyssey of Richard Henry Dana Jr. 2015.
David Haven Blake. "Among the English Worthies: Longfellow and the Campaign for Poets' Corner." Critical Survey 27, no. 3 (Winter, 2015): 82-104.
Christopher Phillips. Epic in American Culture: Settlement to Reconstruction. 2014.
John Hebble. The Vassall-Craigie-Longfellow House of 1759: From Colonial America to the Colonial Revival and Beyond. MA Thesis. 2014.
Christoph Irmscher and Robert Arbour, eds. Reconsidering Longfellow. 2014.
Bashar Shbib, director. "The Search for Evangeline." Documentary film. 2014.
Alan Wald. American Night: The Literary Left in the Era of the Cold War. 2012.
Cultural Resource Management Reports
Based on site-specific research, these reports document the cultural resources, historical structures, landscapes, and history of Longfellow House–Washington's Headquarters National Historic Site.
Last updated: September 10, 2023