Longfellow and the Fugitive Slave Act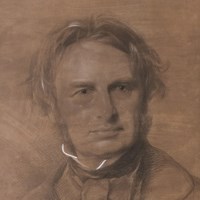 The passage of the Fugitive Slave Act in 1850 enraged Northern whites, and turned even moderates into activists. It deeply affected Henry Longfellow and his close friends, among them Charles Sumner and Richard Henry Dana, Jr. This federal law required residents in free states to aid in arresting runaway slaves. Those who helped escaped slaves faced a $1000 fine, six months in jail, and possible charges of treason. The law also established a separate legal system to process accused fugitives.
Both free blacks and former slaves fled their homes since they had no legal right to plead their cases under the Fugitive Slave Act. Abolitionists and ordinary citizens organized committees, raised funds, and assisted the Underground Railroad. Boston emerged as a center for resistance to this law.
Longfellow wrote of his meeting the escaped slave Ellen Craft. Passing for a white man, she had traveled north to freedom with her husband pretending to be her slave. On February 12, 1850, Henry recorded in his journal:
Went to Miss Bremer's…. While I was there, Ellen Craft came in,– the slave woman who ran away disguised in man's clothes as a young master, her husband going as her slave. When Miss Bremer told me who it was, and spoke of man's clothes, Ellen hung her head and said she did not like it mentioned,– and 'some people thought it shocking.' Miss Bremer laughed at this prudery, as well she might; and we both urged her to be proud of the act.
Longfellow's journals show that he had carefully tracked several of the fugitive slave cases in Boston and decried the city for its tolerance of such injustices. On October 26, 1850, he railed: "The slave-hunters are in Boston. I hope they will be imprisoned, as they deserve. What a disgrace this is to a republic of the nineteenth century."
On October 27, 1850, he noted: "Sumner at dinner. The Fugitive Slave, Craft, has got a warrant against his pursuers, and had them arrested for slander in calling him a thief, the damages laid at ten thousand dollars. They found bail. This is a good beginning. I hear they will be drummed out of town."
And on February 15, 1851: "A fugitive slave, or a man accused of being one, escaped today from the court room during the recess, aided by other blacks. Very glad of it. This government must not pass laws that outrage the sense of right in the community."
On April 4, 1851, he wrote: "There is much excitement in Boston about the capture of an alleged fugitive slave. O city without soul! When and where will this end? Shame, that the great Republic, the 'refuge of the oppressed,' should stoop so low as to become the Hunter of Slaves!"
Two days later Longfellow remarked: "Sumner came not withstanding the rain. He says that Charles G. Loring is to defend the fugitive Simms [sic]. They want to get a chance to argue the constitutionality of this infamous Fugitive Slave Law."
On April 29, 1854, Longfellow cheered his friend on: "Sumner is still going from town to town stirring the hearts of men with his noble words on Slavery. God speed him."
In a letter to Charles Sumner, June 2, 1854, Longfellow praised him and the work of their mutual friend Dana: "To-day is decided the fate of Burns, the fugitive slave. You have read it all in the papers—the arrest, the trial, etc. Dana has done nobly; acting throughout with the greatest nerve and intrepidity. Fanny joins me in congratulations on your noble position and labors. It is a great thing in one's life to stand so long and unflinching in the range of the enemy's artillery."
After the Fugitive Slave Act was passed, Longfellow's account books report numerous donations throughout the 1850s given directly to free or educate individual slaves and their children. They also include entries for contributions to organizations and schools to help freedom seekers, and to those offering them shelter. Dozens of entries show that Longfellow gave amounts ranging from $2 to $50, roughly equivalent to $48 to $1200 today.
On at least two occasions Longfellow contributed $10 to Mary Elizabeth Wormeley, who raised money to buy the freedom of slaves. On July 29, 1853, he wrote to her:
I am ashamed to send you so small a sum as the inclosed for an emergency so great as the one you mention. If necessary I will double the amount; and if time presses, and donors reluctant, be kind enough to let me know it. I am very glad you have undertaken this business. I am sure you will carry it through triumphantly; and the bitterness of begging will be lost in the sweetness of giving.
Three days later she responded that she had received from many people a total of $1,441. "I shall free Evelina and her younger children and Sarah's husband," she said. "Three of John Gorden's children will be left behind. May the Father of the fatherless save them from the fate hanging over them."
In June 1857 Longfellow's account book shows that he gave "Mrs. Hillard for Slaves $5.00." It was well known that Susan Hillard, wife of Henry's long-time friend George Stillman Hillard, secreted fugitive slaves in the attic of her house on Beacon Hill. Longfellow surely knew this and supported her efforts with a monetary donation. Mr. Hillard was a United States commissioner whose business it was to issue warrants to marshals for the capture of runaway slaves. Their neighbor, Rev. James Freeman Clarke, believed that Mr. Hillard knew of his wife's concealment of slaves but never interfered.
Longfellow longed for an end to the law. His June 29, 1854, journal entry read: "News from Washington of a fierce debate in Congress on a repeal of the Fugitive Slave Law, in which Sumner takes a conspicuous part, and does himself much honor."
Longfellow summed up his attitude towards the Fugitive Slave Law in his journal on April 29,1858: "Dine with the Club. Felt vexed at seeing plover on the table this season, and proclaimed aloud my disgust at seeing the game-laws thus violated. If anybody wants to break a law, let him break the Fugitive Slave Law. That is all it is fit for."
By December 2, 1859, Longfellow saw a brighter future:
This will be a great day in our history; the date of a new Revolution,– quite as much needed as the old one. Even now as I write, they are leading Old John Brown to execution in Virginia for attempting to rescue slaves! This is sowing the wind to reap the whirlwind, which will come soon.
Last updated: January 12, 2018