Charles Sumner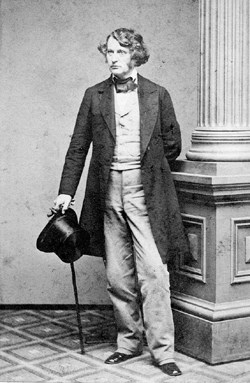 Charles Sumner grew up and lived for many years on the "back side" of Beacon Hill, home to many former and fugitive slaves and free blacks, who formed a supportive community. Sumner knew this community well and became close friends with a number of the leading black abolitionists in Boston. After the passage of the Fugitive Slave Law of 1850 and because of his activity in the anti-slavery movement, many wealthy Boston families turned against him, including Longfellow's father-in-law, the textile-manufacturing magnate Nathan Appleton. In 1848 Sumner denounced, in his often-quoted words, the "unhallowed union" between "the lords of the lash and the lords of the loom."
Sumner was Longfellow's closest friend and most frequent visitor to the Longfellow House for almost thirty-five years. He was first elected to the U.S. Senate from Massachusetts in 1851 and remained there until 1874. Sumner and other friends sat in Longfellow's study to hear the announcement of his election as the abolitionist candidate. Longfellow recorded in his journal: "The papers are all ringing with Sumner, Sumner!... Meanwhile the hero of the strife is sitting quietly here, more saddened than exalted." When not in Washington, D.C., Sumner spent most Sundays or entire weekends with the Longfellow family.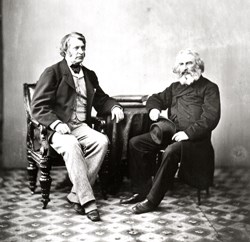 Sumner was a leader in the anti-slavery movement both in Massachusetts and throughout the nation. He was an ardent abolitionist senator who attacked the Fugitive Slave Law and denounced the Kansas-Nebraska Act of 1854. On May 19-20, 1856, Sumner delivered his passionate anti-slavery speech known as "The Crime Against Kansas." Two days later, on the floor of the Senate, South Carolina Congressman Preston S. Brooks beat him senseless with a cane. Sumner never fully recovered.
As a confidant of Abraham Lincoln, Sumner was influential in encouraging him to issue the Emancipation Proclamation, a presidential order declaring freedom to all slaves in the Confederate states not already returned to Union control.
Last updated: January 12, 2018