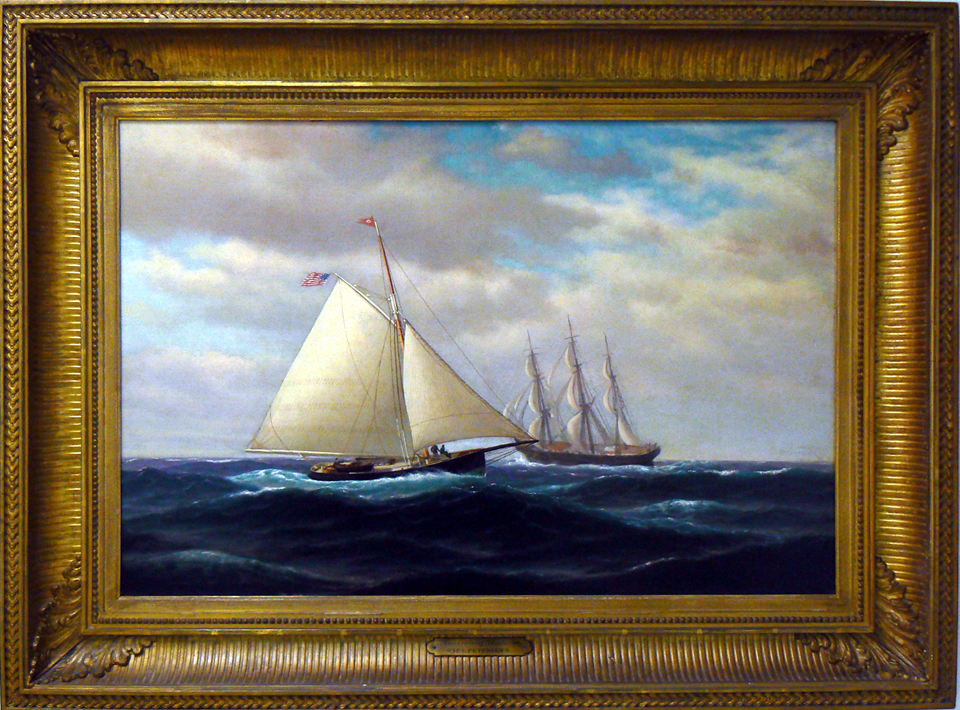 July 11, 2016 marks the 150
th
anniversary of the start of the transatlantic voyage of the yacht "Alice" from Nahant, Massachusetts to the Isle of Wight, England. The yacht was owned by Thomas Gold Appleton, brother-in-law to Henry Wadsworth Longfellow and among its crew for the trip was Longfellow's son Charles. The crossing set a record for a boat of that size, and was completed in a speedy 19 days. The successful arrival of the "Alice" in England was an event of some note in yachting circles, and helped give rise to the idea of transatlantic racing.
This painting of the "Alice" (named for Appleton's niece and Longfellow's daughter) on that 1866 voyage was done by a Danish artist, John Erik Christian Petersen. Petersen came to the United States in 1864 and opened a studio in Boston, where he acquired a reputation as an accomplished painter of marine subjects.
Petersen was not simply a painter of ships and ocean scenes; he was himself a sailor, and a friend of Henry W. Longfellow and Thomas G. Appleton. Petersen sailed on the "Alice" on multiple occasions, at times even competing in races. On June 15, 1871 in a letter to his son Charles, Henry Longfellow wrote -

Alice is passing a week with Aunt Hattie at Shark's Mouth. I went down with her two days ago. What a beautiful place it is. It would be difficult to find a better. Mr. Curtis has been to see the Yacht Race, in which Peterson [sic] was sailing in the Alice. After the race the wind was high, and the Alice went out on her own account and has not been heard of since. Luckily Uncle Tom was not on board. People are getting alarmed about her.
The "Alice" came back safely before Longfellow even finished writing the letter, as Henry ended it with the following line -

P.S. The Alice has come in safe, and as Uncle Tom says has "covered herself with glory."
Petersen died a few years later at the age of just 39. The "Alice" remained in the extended Longfellow family until 1888, when Charles Longfellow replaced it with a newer yacht named the "Alga".