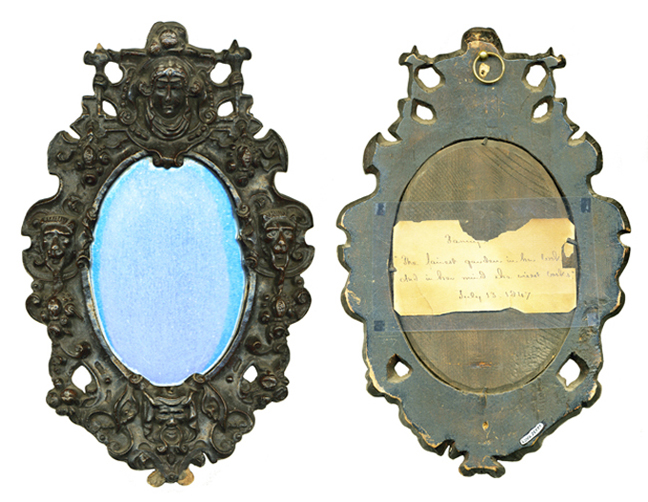 July 13th marks the 171st anniversary of Henry Wadsworth Longfellow's marriage to Frances Elizabeth Appleton. In commemoration of their July 1843 wedding, this month's featured object is a gift given by Henry to his wife on their 4th anniversary in 1847.
This mirror has a hand carved wooden frame decorated with the head of a woman in medieval or renaissance attire at the top, two lion heads on the mirror's left and right sides, and on the bottom the face of a "Green Man" type figure with bat-like ears and a flowing mustache or vines growing out of his nose. The mirror's frame is in the general Renaissance Revival style, popular in the mid-19th century. It is likely a hand carved piece that might have been obtained by Longfellow in Switzerland, Germany or perhaps France during one of his earlier trips to Europe.
Pasted on the mirror's back is a small piece of paper with some lines written in Henry W. Longfellow's hand. They read:
Fanny.
"The fairest garden in her looks
and in her mind the wisest books."
July 13. 1847
The lines of poetry are not Longfellow's own, but were written by 17th century English poet Abraham Cowley in his 1666 essay The Garden. Longfellow obviously thought highly enough of Cowley's work to use these lines as an inscription for this anniversary gift to his wife, rather than compose his own message. Henry recorded the occasion in own journal, writing "Memorable Day! Four years ago! Four years married!"