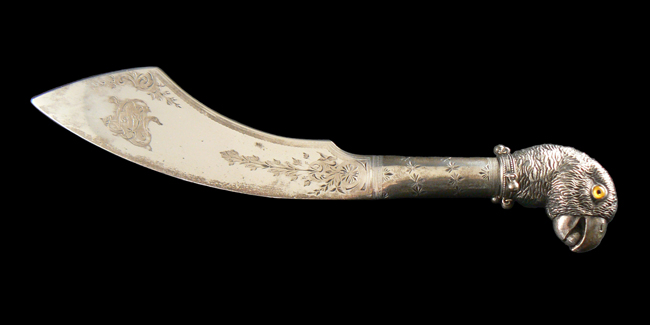 For September, we are featuring an object that is exhibited in the Longfellow House Parlor, but it is one most people probably don't notice, as it sits on a low cabinet shelf behind a glass door.  It is a sterling silver letter opener, gifted to Henry W. Longfellow by one of his friends. 
The letter opener has several interesting features.  Most noticeable is the size of the blade which has an almost scimitar-like shape.  Engraved on the flat of the blade is Longfellow's monogram "HWL".  The letter opener's handle features a parrot head, with yellow and black eyes made of glass.  The parrot has a round nut or piece of fruit, also fashioned out of sterling silver, in its beak.  There are five small spheres dangling from what appears to be a collar around the parrot's neck.  A maker's mark on one side of the blade reads "K. & J.", indicating that the piece was made by Kennard & Jenks silversmiths of Boston.  Kennard & Jenks were in operation for only a short period, from 1876 to 1880, after which the company was acquired by the larger Gorham Manufacturing Company of Providence, Rhode Island. 
In 1912 a comprehensive inventory of everything in the Longfellow House was conducted, and this letter opener is listed on page 26 of that document.  The typed entry was annotated by Harry Dana, the poet's grandson, with the following information "given by George W. Childs (editor of the Philadelphia Ledger) at time of Centennial 1876."  George W. Childs was co-owner of the Philadelphia Public Ledger newspaper.  He corresponded with Henry Wadsworth Longfellow, and in 1876 Childs' wife Emma wrote to Longfellow to invite him and his three daughters to stay with them for a week in May of that year during the Centennial Exposition's run in Philadelphia.  Longfellow accepted the invitation, and presumably it was during this visit that George W. Childs presented Henry with the letter opener.  Longfellow made no mention of the gift in his May 1876 journal entry though, writing only "A week with Mr. Childs at Philadelphia, and a week in the country at Roseman's near Bryn Mawr; from the 16th to the 31st.  A charming vacation, with all the wonders of the Centennial Exposition."