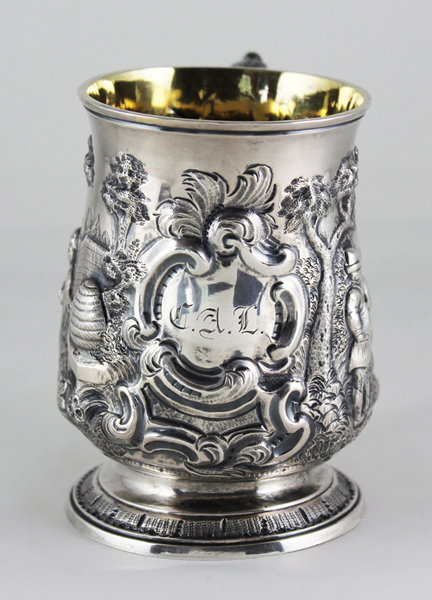 This sterling silver mug with a gilt wash interior was presented to Charles Appleton Longfellow, born June 9, 1844, on the occasion of his christening in October of that same year. His aunt, Mary Longfellow Greenleaf, was present at the event and remarked in a letter to her mother Zilpah Wadsworth Longfellow that baby Charles "behaved as never did child before ... and giving a very heavenly smile when the clergyman called him 'an angel of light.'"
The cup was something of a family heirloom, as etched into the underside of the cup's foot are the initials "MTG", which likely refer to Maria Theresa Gold (Appleton), Charles Appleton Longfellow's maternal grandmother, who passed away some eleven years before her grandson's birth.
Based on other marks on the silver, including maker's, date, standard and hall marks, it has been determined that the cup was originally made in 1786, the year of Maria Theresa Gold's birth, and that it was made by English silversmith Hester Bateman. Bateman became a silversmith after her husband John, a gold chain maker, died in 1760 and left all of his tools to his wife. From the mid-1770s onward, Bateman made a name for herself, producing fine pieces of silver in her London shop. Her company continued operations under her sons until 1843, which coincidentally was the year that Charles Appleton Longfellow's parents, Henry Wadsworth Longfellow and Frances Appleton, were married.