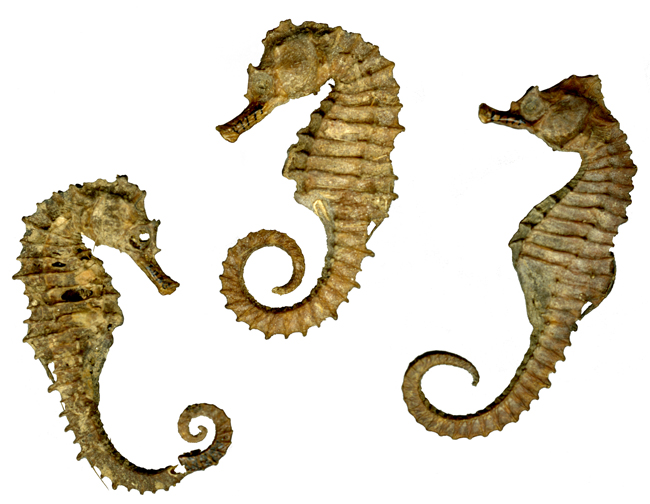 This trio of dried seahorses was found by NPS staff in a small trinket box in the museum collections. The box, listed in the 1912 inventory done of the Longfellow house's furnishings as a "Small Italian Gold Tooled Leather Chest", belonged to Alice Longfellow. Whether or not the contents of the box belonged to Alice is unknown, but it is known that she was fond of traveling to Venice, Italy, and that seahorses are a symbol of some significance to that watery city.
In early twentieth century Venice street merchants sold bundles of three dried seahorses as good luck charms. A 1913 travel article from Harper's Magazine about Venice featured a description of a seahorse vendor, reporting his claim that they were sold in groups of three to represent a family consisting of "padre, madre, figlio." Seahorses are also one of the few decorative elements Venetian gondolas have been officially allowed to feature ever since a 16th century law was passed banning most ornamentation.  
Dried seahorses are still sold as souvenirs, traditional medicine, and even street food in some countries. Concerns about overharvesting, in addition to habitat loss and degradation due to pollution and commercial fishing practices, have led some governments and conservation organizations to discourage the continued collection of these fascinating creatures.