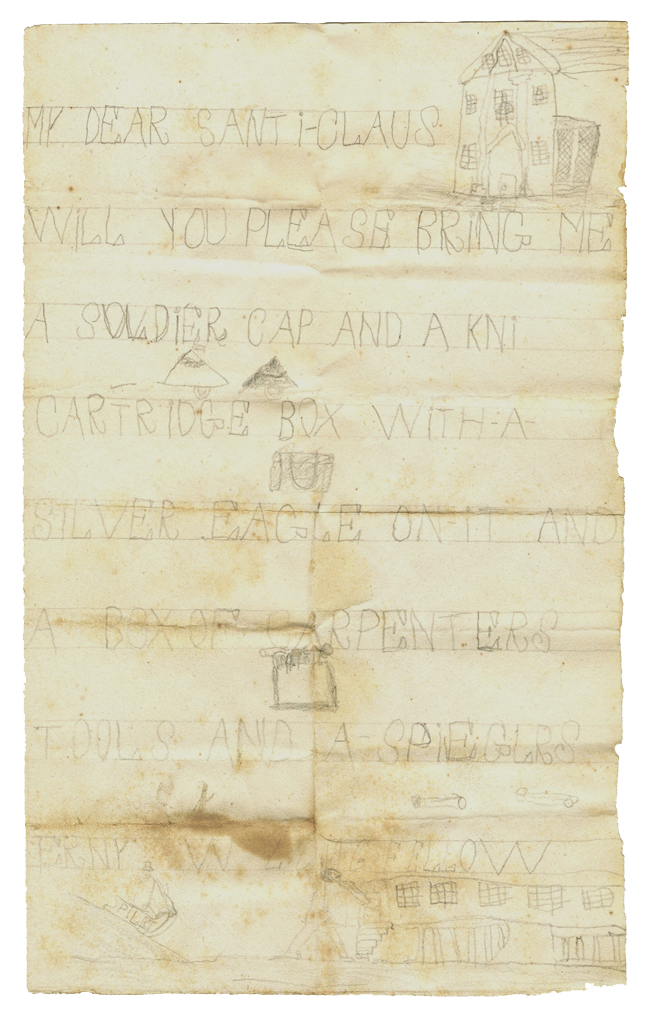 December's object of the month features a piece from the vast archival collections at Longfellow House –Washington's Headquarters NHS.  It is a letter from Ernest Wadsworth Longfellow to Santa Claus, written sometime in the early 1850s when Ernest was a young boy between six and ten years old.
In the letter Ernest asks "SANTI CLAUS" for several gifts, including a "SOLDIER CAP", a "CARTRIDGE BOX WITH-A-SILVER EAGLE ON IT", a "BOX OF CARPENTERS TOOLS" and a "SPIE GLRS" or spy glass.  Illustrations of each of the requested gifts accompany the text.  The letter is also decorated with drawings of a house, presumably the Longfellows' own home on Brattle Street.  On the bottom left is a small picture of a sleigh, possibly being driven by Santa on his way to deliver the asked-for presents.
The Longfellows, especially Mrs. Longfellow, carried on a tradition of letters to and from Santa for some years.  While we have letters addressed to "Santi Claus" from just the two Longfellow boys Charles and Ernest, responses (featuring handwriting suspiciously similar to that of Frances Appleton Longfellow . . .) to both boys and Alice Longfellow are also in the collection.  These letters from Santa Claus often praised the children for prior examples of good behavior, and provided gentle chiding for perceived bad habits.