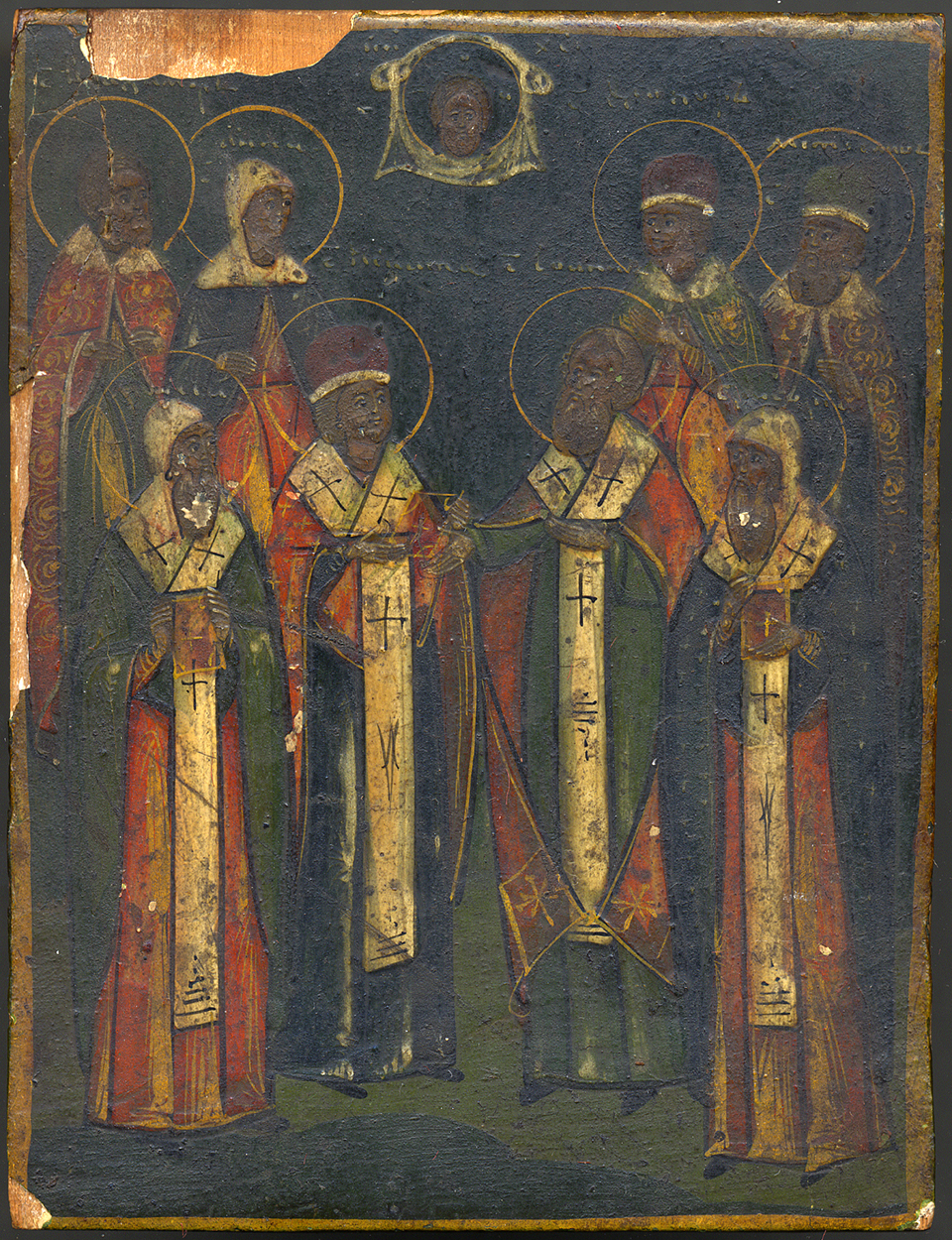 This small (roughly 4.3" by 3.2" and pictured here larger than lifesize) wooden panel has holy figures painted on it, and is a religious Russian icon.
Russian icons became a popular way to express religious themes near the close of the tenth century when the Kievan Rus' tribes located in Eastern Europe, including parts of what are now Russia, Belarus and Ukraine, converted to Orthodox Christianity. Icons were typically painted on wooden panels with egg tempera, a method using colored pigments bound with a material such as egg yolk, and then finished with a varnish.
The date of this icon's manufacture is currently unknown. Its darkened appearance, damage, and the miniscule text has so far prevented any positive identification, but it appears to depict saintly members of the Orthodox Christian church, as identified by their halos, presided over by Jesus at the top. We do however know exactly when, where and by whom it was acquired.
Charles Appleton Longfellow traveled to Russia over the winter of 1866-1867 in the company of his uncle Nathan Appleton, Jr. (only one year older than Charles). While there they had an audience with the Tsar, attended balls, skated and rode in a sleigh pulled by reindeer. They visited Novgorod for just one day in January, 1867. Inscribed on the back of this icon in Charles' hand is:

"From St. Sophia Church,
Old Novegorod
Jan. 21 1867
C.A.L."

Collecting Russian icons became a popular pastime among non-Russians beginning in the late 19th century. The practice of painting religious icons in Russia greatly declined with the rise of the Soviet Union, but it has seen a rebirth in recent decades, with many pieces being forgeries copied from older works, as the Russian government has prohibited the export of any icon more than 100 years old.