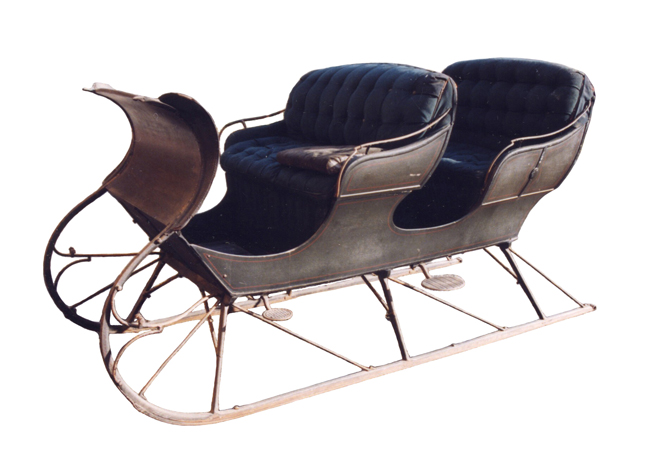 One of the largest objects in the museum collection is this sleigh, made by the Kimball Brothers firm of Boston, MA. The Kimball family had a long tradition of carriage and sleigh building dating all the way back to Richard Kimball, a wheelwright who came to Massachusetts from England in 1634. Various family members established businesses in Maine and Connecticut, and in 1864 George Franklin Kimball opened his carriage and sleigh building operation in Boston simply named "Kimball Bros." with a factory on Beverly Street and a showroom/sales office on Sudbury Street. The firm continued operations until 1915.
The sleighs constructed by Kimball Brothers were mostly of a type called the Portland Cutter, a design that featured angular lines, flat body panels, and a goose-neck dash that protected passengers from snow kicked up by the horse. The Portland Cutter was a lightweight sleigh made with speed in mind, and in fact these sleighs were often raced. Henry Wadsworth Longfellow even recorded going to watch sleigh races, writing in his journal on February 2, 1862 "After dinner drove with Hattie and Charley to the 'Brighton Road', the Winter Corse [sic] of Boston, where all the sleighs go. Then to the Mill-Dam, where we saw a greater crowd and all the fast horses."
The sleigh pictured above dates to about 1900 and probably belonged to Alice Longfellow. Prior to the widespread use of snowplows on paved streets, the sleigh would have provided the swiftest means of travel in wintry conditions. If the snow was deep enough rollers were sometimes used to pack it down, thereby providing a slick pathway on which a sleigh could glide along.