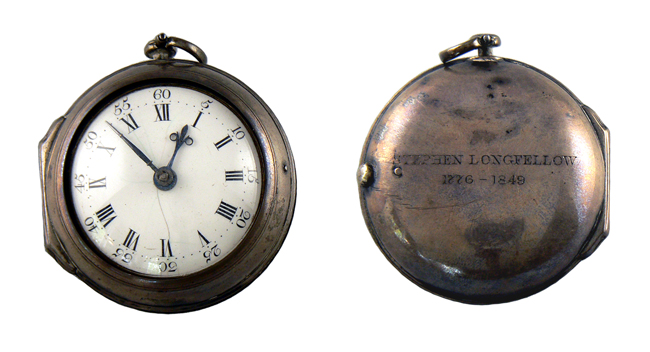 August's object of the month is a pocket watch with a lengthy and somewhat confused record of Longfellow family ownership.
The watch has a white porcelain face with the hours marked in Roman numerals, a glass cover, and a silver casing. On the back of the watch is engraved the name "W. Dickason." The watch fits into another silver case which is engraved on the back with "STEPHEN LONGFELLOW" and "1776 – 1849". This outer case has a label inside for Lowell & Senter Watch and Chronometer Makers, Portland Maine. That firm was in operation from 1846 to 1871, but based on the fact that the watch belonged to Stephen Longfellow who died in 1849, and prior to that it presumably belonged to someone named W. Dickason, the timepiece likely predates the Lowell & Senter company, and therefore did not originally have the second case.
Accompanying the watch is a note, handwritten in ink that reads "An Hierloom [sic] for Harry – His Great-Great Grandfathers – watch", and with pencil notations indicating that the watch was given to Harry Dana in 1938 as a Christmas gift. Interestingly, neither of the names engraved on the watch are those of great great grandfathers of Harry Dana. It is unknown who "W. Dickason" was, and the Stephen Longfellow born in 1776 was not Harry's great great grandfather either, though another Stephen Longfellow who died in 1824 was. The person who wrote the note (possibly Mary King Longfellow, Harry Dana's mother's cousin), was either confused, or the watch belonged to someone who did not have their name engraved upon it. Additionally, inside the bezel of the watch's outer casing is scratched "R K L", presumably the initials of Richard King Longfellow, who died in 1914 and was brother to Mary King Longfellow. At the very least, this watch belonged to four different people; the unknown W. Dickason, Stephen Longfellow who was the poet's father and great grandfather to Harry Dana, Richard King Longfellow, and then Harry Dana.