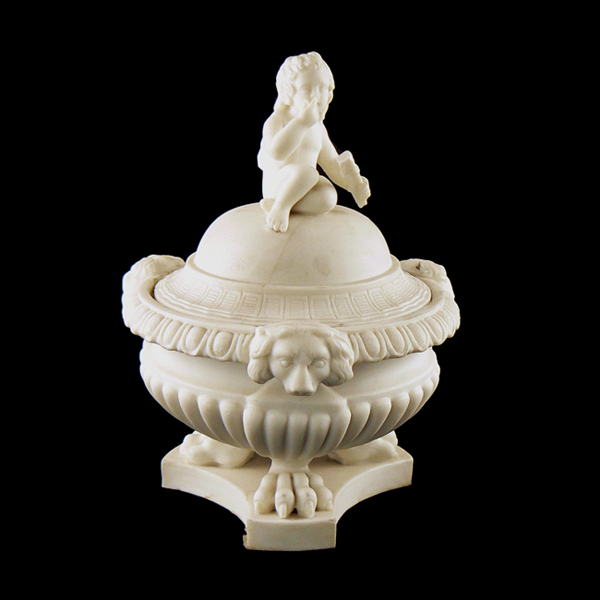 This month's object is a small parian jar given to Henry W. Longfellow by British author and editor Samuel Carter Hall.
The jar features three four-toed clawed feet, three lion or dog heads, and a domed lid topped by a cherub holding an indistinguishable object in its left hand. The jar is made of parian, a type of bisque porcelain known for its white color and intended to act as imitation marble. Parian ware was first introduced in the 1840s, and this piece was manufactured by the Copeland firm of Stokeworth-on-Trent, England. On the bottom of the jar is an inscription in ink that reads "Longfellow with the homage of S.C. Hall".  
Samuel Carter Hall was a London-based reporter and editor who commented primarily on literary and artistic movements and trends for much of the nineteenth century. Hall had a notable personality; one of the commonly used words to describe him was "sanctimonius". He is widely believed to have been the model upon which Charles Dickens based the character Seth Pecksniff from his novel Martin Chuzzlewit. 
In a March 9, 1857 letter to Hall, Henry W. Longfellow wrote: "I beg you to accept my most cordial thanks for your beautiful gift, "The Royal Gallery of Art," and for the friendly remembrance which prompted you to send it. . . . I have now two charming presents to remember you by; - this and the Parian Inkstand, in which I hope to find all those unwritten songs, which, as the Spaniards say "han quedado en el tintero [have been left in the inkwell]."

The jar is currently displayed on a cabinet shelf in the Longfellow House library.