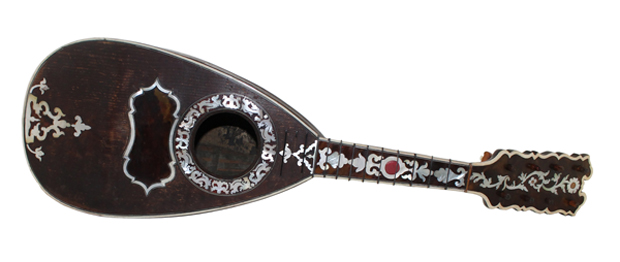 This month we feature a mandolin, made by Neapolitan luthier Donatus Filano in 1765. Although we do not have a great deal of information on Filano, we know that he was the maker of this particular mandolin due to a label pasted inside the instrument which reads "Donatus Filano Fecit Anno Domini 1765". Filano seems to have been known more for the elaborate adornment of his mandolins than for their quality. This instrument was fitted out with ivory edging, mother-of-pearl inlay, and tortoiseshell.
How or when the Longfellow family acquired the mandolin is unknown, but it was in the Brattle Street house by 1854. In January of that year, Frances Longfellow recorded some details of her nephew Angus Mackintosh's birthday party at the house, which included some costume play with the mandolin used as a prop. Frances wrote "Afterwards we got up tableau in the nursery, enclosing the door towards the entry, first Eva as a Spanish lady in my Spanish dress with the mandolin." There is also a record of the Longfellows' eldest child, Charley, playing the mandolin to entertain his younger siblings Ernest and Alice.
Over the years, perhaps in part due to hard use at the hands of some of the Longfellow children, the mandolin deteriorated to the point where it could not be displayed. It had holes in its bowl-shaped back, was missing most of its tuning keys, and had lost a significant amount of the ivory, mother-of-pearl and tortoiseshell decoration. In 2010, National Park Service conservators cleaned and stabilized the mandolin and improved its appearance by recreating the missing elements out of epoxies, polyester film and other materials to return the piece to a condition suitable for exhibition. The mandolin is now exhibited in the library, which was also referred to as the music room by the Longfellows, as the space was used for performances by family, friends and visiting musicians and singers from time to time.