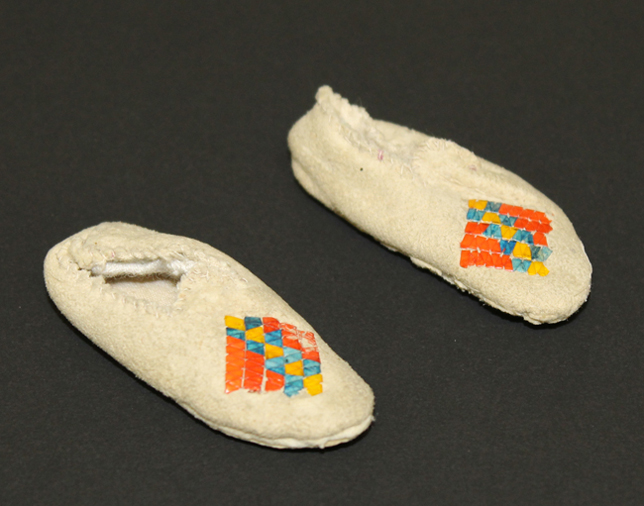 November is Native American Heritage month, and the object of the month relates to Henry Wadsworth Longfellow's interest in Native American culture.
This miniature pair of moccasins, each measuring just over two inches long, was sent to Longfellow by an admirer named Mary Collins.  She was a Congregational missionary working with the Lakota tribe in present-day South Dakota from 1875 until 1910, and reportedly had good relationships with such prominent Native Americans as Rain-in-the-Face and Sitting Bull.  The miniature moccasins, sent to Longfellow shortly before his death in 1882, were accompanied by a letter which read:


Dear friend –for are you not the friend of us all –I thought it would not be a-miss to send "From the Land of the Dakota's, from the Land of Handsome women," a miniature pair of moccasins such as Minnehaha wears.  They were made by a Dakota woman whose name is "White Dog."  May you still see many happy Birthday anniversaries on earth –and all your days be blessed ones.
Your friend
(Miss) M. C. Collins

Miss Collins, who quoted Longfellow's The Song of Hiawatha in her letter, was just one of several people who sent Longfellow objects with Native American connections.  The fact that she was moved to do so, almost thirty years after The Song of Hiawatha was first published, is a testament to the impact Longfellow's work had on his nineteenth century audience.