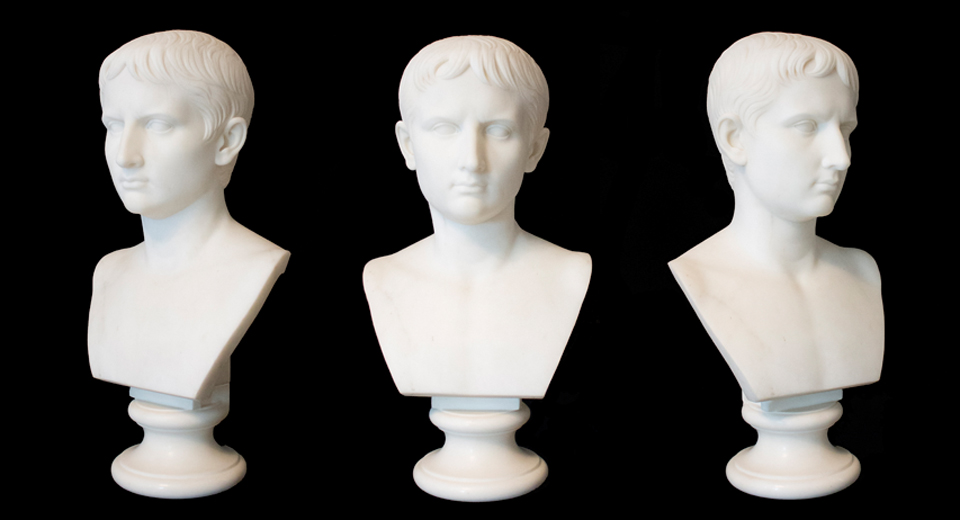 For the month of August we are featuring this marble bust of the young Augustus, first emperor of the Roman Empire, and the man for whom the month was named in 8 B.C. The sculpture belonged to Senator Charles Sumner, one of Henry Wadsworth Longfellow's closest friends. Upon Sumner's death in 1874, the bust was willed to Longfellow. It was one of only a few specifically mentioned items in Sumner's will, which referenced the piece as "to Henry W. Longfellow ... that bust of the young Augustus, in marble".
The sculptor of this bust is unknown, but it appears to have been inspired by a piece in the Vatican, most likely made by Italian sculptor Antonio Canova. That bust likely served as a model for many other later sculptors, including Americans Horatio Greenough and Edmonia Lewis, who both spent time in Rome and produced works bought by Charles Sumner.
This bust is likely the same one pictured in a stereograph image of Senator Sumner's Washington D.C. reception room published circa 1867 by E. &H. T. Anthony &Co. Visible in that image are a handful of items that were willed to Longfellow by Sumner and ended up in the poet's Cambridge home. The marble bust of Augustus eventually found its way to a second floor room used by the poet's daughter Alice as a study in the Brattle Street house, and it is recorded in an inventory of the house's furnishings as being in that spot as early as 1912. The bust can still be seen in that room today.