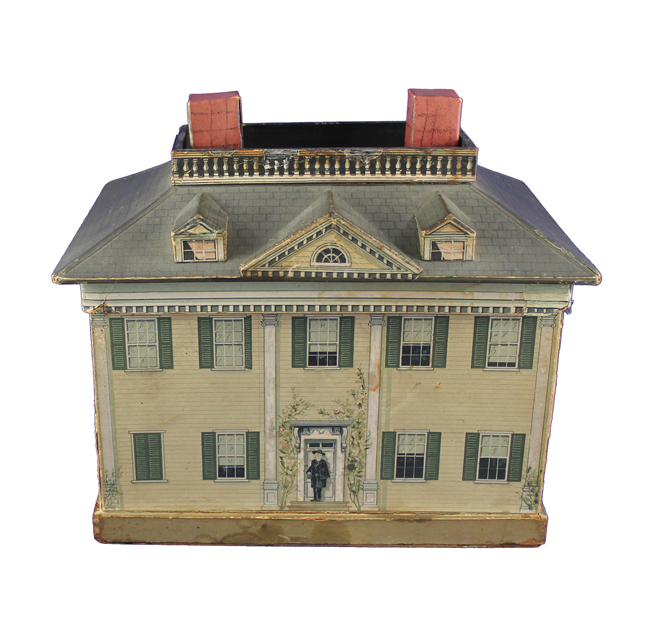 This month's object is a stationery box in the shape of Henry Wadsworth Longfellow's Cambridge home, made by L. Prang and Company in about 1887.
Louis Prang was born in 1824 in the Prussian Silesian city of Breslau, now Wroclaw, Poland. In 1850 he immigrated to the United States and became involved in book publishing and leatherworking. Six years later he and a partner began producing lithographs of Massachusetts scenes. In 1860 Prang bought out his partner and began L. Prang and Company, which became known for its Civil War maps, collectible album cards, and later, for popularizing the Christmas card in the United States.
Among L. Prang and Company's offerings was the box of stationery pictured above. The December 1887 edition of Scribner's Magazine described the piece as:
PRANG'S LONGFELLOW STATIONERY.
Put up in a unique box, representing a fac-simile of LONGFELLOW'S RESIDENCE, in Cambridge, Mass. The chimneys are used for the reception of postage-stamps. The house is securely packed in a wooden box, ready for shipment. A handsome and convenient present.
Also in December 1887, The American Bookseller mentioned the set in the following passage:
L. Prang & Company have had specially manufactured, of the best linen stock, a very fine line of stationery called "Longfellow Stationery." It is put up in five quire lots, with envelope, and sold in a unique box, representing the well-known old house at Cambridge, where the poet resided, which has too the historic interest of having been Washington's Headquarters. The box is a facsimile of the building in every particular, including color, and by an ingenious thought the chimneys are made to serve as receptacles for postage stamps.
The eight-inch high box features a fairly accurate image of the front facade of Longfellow's Brattle Street house. Pictured at the front door is a bearded man in black pants, coat and hat, presumably an image of the poet himself.