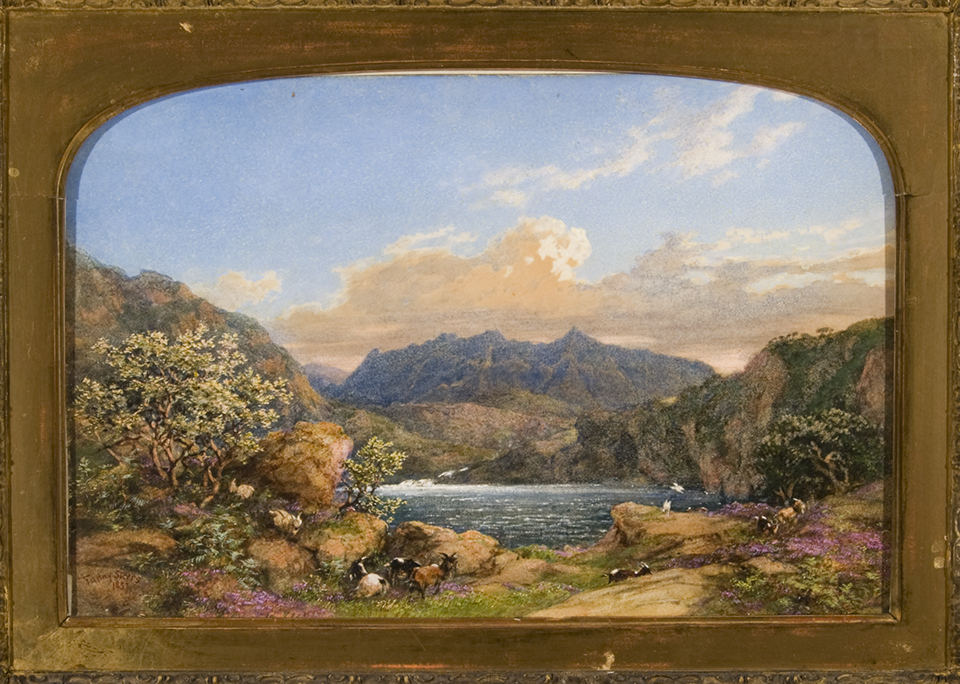 With a nod to upcoming Saint Patrick's Day celebrations and Ireland in general, as well as Women's History month, this month's object is a painting by a female artist depicting an Irish landscape. Titled The Reeks, Killarney, Ireland, the watercolor painting depicts a lake with mountains in the background.
The artist responsible for creating this work was Fanny Steers, an English painter best known for her small-scale landscapes. Steers, born in 1797, is now almost unknown, but she received considerable praise for her work during her life. She showed paintings at several prominent art exhibitions in the mid-19th century, including those held by the New Society for Painters in Watercolours in England.
The title of the painting refers to a mountain range in southwest Ireland, near the town of Killarney in County Kerry. The word "reek" is an Irish term meaning "stack", and the Reeks of Killarney include the highest peaks in all of Ireland.

Henry W. Longfellow purchased this painting on April 17, 1858. On that day, he recorded in his journal "At the Exhibition of English pictures with Fanny. Delighted with the water colors. Buy one; lake of Killarney by Fanny Steers." The painting was part of the "American Exhibition of British Art" displayed at the Boston Athenaeum that year. Fanny Longfellow recounted the event in a letter to her sister Mary as well, writing "Mr. Ruxton, a pleasant young Englishman, has brought here quite a gallery of British art, & we have been much interested in the pictures, especially the water-colors. Henry has bought one of the latter, by Fanny Steers - a charming view of a Killarney lake." Longfellow's purchase was even mentioned in an article published that year in the art journal The Crayon, which noted "The lady artists of England are well represented in this collection, as many of the watercolors, and several of the oil-paintings, are by them. The first picture sold was a landscape, by Miss Fanny Steers, which was purchased by Professor Longfellow, of Cambridge."