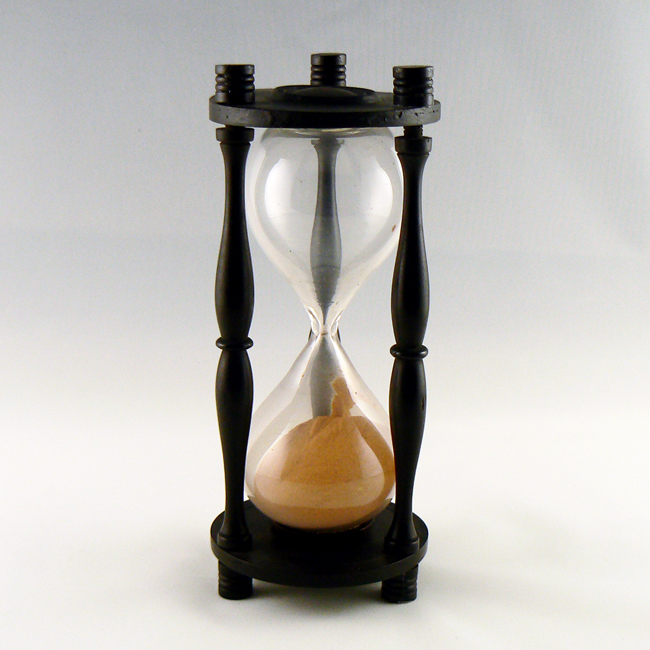 This month's object is a small hourglass that is now displayed on a cabinet shelf in Henry Wadsworth Longfellow's library. The hourglass is of a common mid-19th century style, and consists of a hand-blown clear glass container housed in an ebonized wooden stand with three turned posts. Inside the glass is finely grained reddish-brown sand. An inventory of the house's contents done in 1912 lists the hourglass as being then present in the library, and is annotated by Longfellow's grandson Harry Dana as holding sand from the "Sahara".
In 1848 on January 21, Longfellow recorded "Evening, wrote a poem 'Sand of the Desert in an Hour Glass.'" The poem's first stanza reads:
A handful of red sand,
from the hot clime Of Arab deserts brought,
Within this glass becomes the spy of Time,
The minister of Thought.
Is this hourglass the very one that inspired Henry's poem? While we are unable to tell for sure, the glass seems to appear in a photograph of the library taken during Henry's lifetime, albeit many years after he wrote "Sand of the Desert in an Hour Glass." Also, if this is the same hourglass its survival to the present day is near miraculous. When the National Park Service assumed stewardship of the Longfellow home, the hourglass's wooden support was broken and missing pieces. The glass portion, somehow still intact, was completely separated. Conservation treatment performed in 2004 returned the piece to its original appearance, allowing it to be placed on exhibit in its historical location in Longfellow's library.