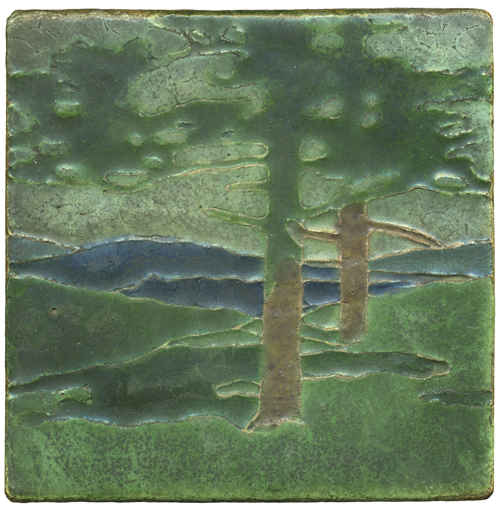 This month we take a look at an earthenware tile made by the Grueby Faience Company of Boston in about 1900.  Grueby products were included in the Art Nouveau and especially the Arts and Crafts aesthetics, which in the case of the Arts and Crafts movement strived to counteract the industrialized mass-production of cheap goods through the creation of simply formed pieces that emphasized the quality of the materials and techniques used.  Grueby became particularly well known for the use of matte green glazes.  These glazes, used on pieces featuring images of flowers and other plants by Grueby's designer George Prentiss Kendrick, helped create especially sought-after pieces.  In addition to tiles such as the one pictured, Grueby's company made vases, architectural elements, and even produced pieces used as lamp bases by Tiffany.
The Longfellow family played an important role in the Arts and Crafts movement in Boston.  Henry Wadsworth Longfellow's nephew Alexander Wadsworth Longfellow, Jr. was a founding member of the Boston Society of Arts and Crafts, and served as the organization's vice president from 1897 until 1917.  Alice Longfellow, the poet's daughter who lived in the house until her death in 1928, was also a member of the Boston Society of Arts and Crafts, and it is likely that she acquired this tile and added it to house's furnishings.
Unfortunately for the Grueby Faience Company, the success of their designs resulted in the proliferation of mass produced, cheaper copies and versions of their own work put out by other companies.  Grueby went bankrupt in 1909, and after a couple of attempts to restart, the firm closed for good in 1920.