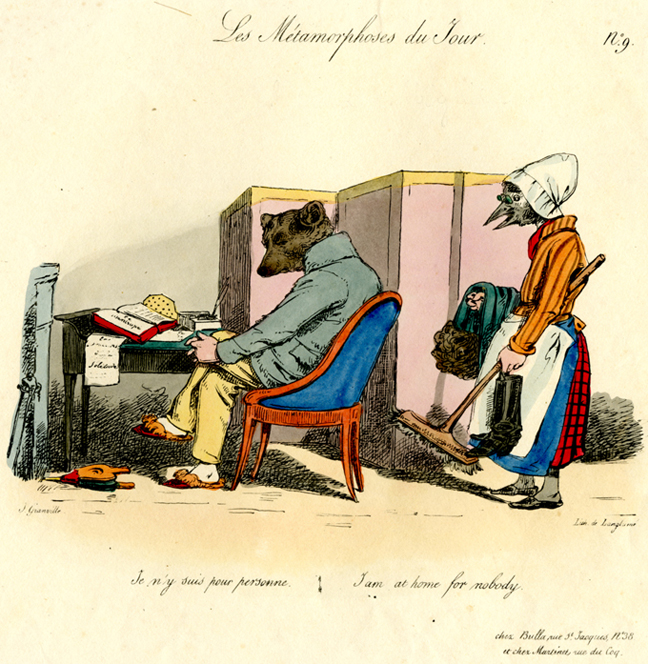 In 1829, French caricaturist Jean Ignace Isidore Gérard, more widely known by his pseudonym J.J. Grandville, created a series of hand colored lithographs featuring anthropomorphized animal figures as a volume titled Les Métamorphoses du Jour. The publication was meant as a satirical commentary on Parisian bourgeois society in the 1820s

that used characteristics of certain animals to reflect human tendencies and motives. Initial public reaction to the first printed plates was so positive that later in 1829 the publisher decided to issue a bilingual edition providing Grandville's captions in the original French with

an English translation. Subsequent editions were published in 1854 and 1869 but lacked the vibrant colors and details of the 1829 works.
Les Métamorphoses du Jour

is now regarded as the best example of Grandville's work, and is rarely found intact. Many volumes have been broken up so the individual lithographs could be sold separately. As historical items, the lithographs are now thought of as important examples of work that had a significant influence on the early 20th century surrealist movement, and which today still serves as inspiration for 21st century artists.

In the collections of the Longfellow House - Washington's Headquarters National Historic Site are eleven plates from an 1829 edition of Les Métamorphoses du Jour, which originally contained some seventy colored lithographs. Which Longfellow family member they belonged to is unknown, but Henry seems a likely candidate as he visited Paris in 1829 near the end of his first trip to Europe, and would have had the opportunity to obtain a copy of Grandville's work at a relatively early date.