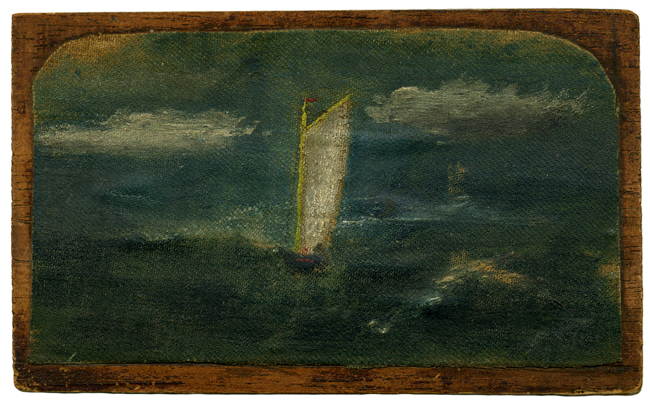 The oil painting pictured above was painted by Ernest Wadsworth Longfellow when he was only ten or eleven years old. Consisting of a small piece of canvas affixed to a wooden backing that measures approximately two and a half by four inches, the painting depicts a small sailing vessel on a windswept sea with a cloudy sky. A faint hint of another ship's sails is in the background. On the back of the wooden support is printed in Henry Wadsworth Longfellow's hand "Erny's First Oil painting. 1856."
The painting might depict a scene described by Henry in a letter to his brother-in-law Thomas Gold Appleton in August 1856. In the letter, written from his summer retreat in Nahant just north of Boston, Henry mentioned an incident involving his older son Charles, writing "Charley had a narrow escape in a sail-boat, driven in among the rocks under our windows, in a squall. It was just touch and go, and we were looking on all the while, without a chance of helping!"

The fact that Henry W. Longfellow saved this piece of his child's art is perhaps evidence that early on he suspected his son Ernest would pursue art as a profession. After graduating from the Lawrence Scientific School at Harvard in 1865, Ernest traveled to Paris to study art. In 1869 he opened his own studio in Boston and exhibited works there and at other venues, including the 1876 Centennial Exposition in Philadelphia. In 1876 he returned to France to study under the influential French painter Thomas Couture. Ernest would remain active as an artist well into the 20th century, and was a strong supporter of the Museum of Fine Arts, Boston.