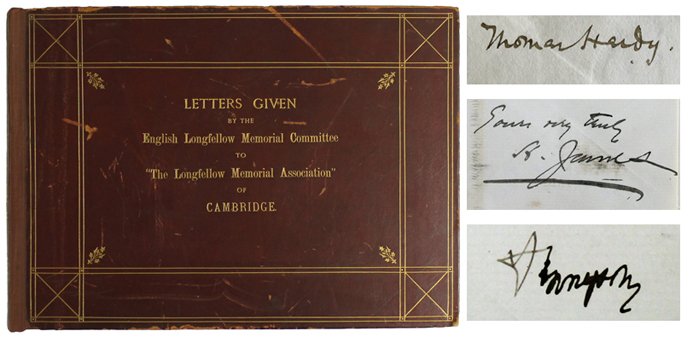 The English Longfellow Memorial Committee was established in 1882 in order to erect a monument in honor of Henry Wadsworth Longfellow, who died March 24, 1882.  The committee commissioned Thomas Brock to sculpt a bust of Longfellow, which was installed in the famed Poet's Corner section of Westminster Abbey in 1884.  Longfellow was the first American to be honored in this manner. 
The book pictured above is a collection of letters written by supporters of the effort to establish an English Longfellow memorial.  Among the subscribers were English novelist and poet Thomas Hardy; writer Henry James; and poet Alfred, Lord Tennyson.  The signatures of these three literary men, from their letters to the English Longfellow Memorial Committee, are also pictured.  Among other subscribers were renowned explorer Captain Sir Richard Francis Burton and his wife Isabel, and author Robert Louis Stevenson, whose father Thomas responded in his stead as Stevenson was away from home at the time.  These letters, along with others in the book from Members of Parliament, prominent church officials, and leading members of British society, are a testament to the extent of Longfellow's fame at the time of his death.
The letters were all addressed to W.C. Bennett, Honorary Secretary of the English Longfellow Memorial Committee.  In 1883 the letters were presented to the Longfellow Memorial Association of Cambridge (Massachusetts), and then ended up at the Longfellow House, where they became part of the museum collections when the National Park Service took over administration of the site in 1972.