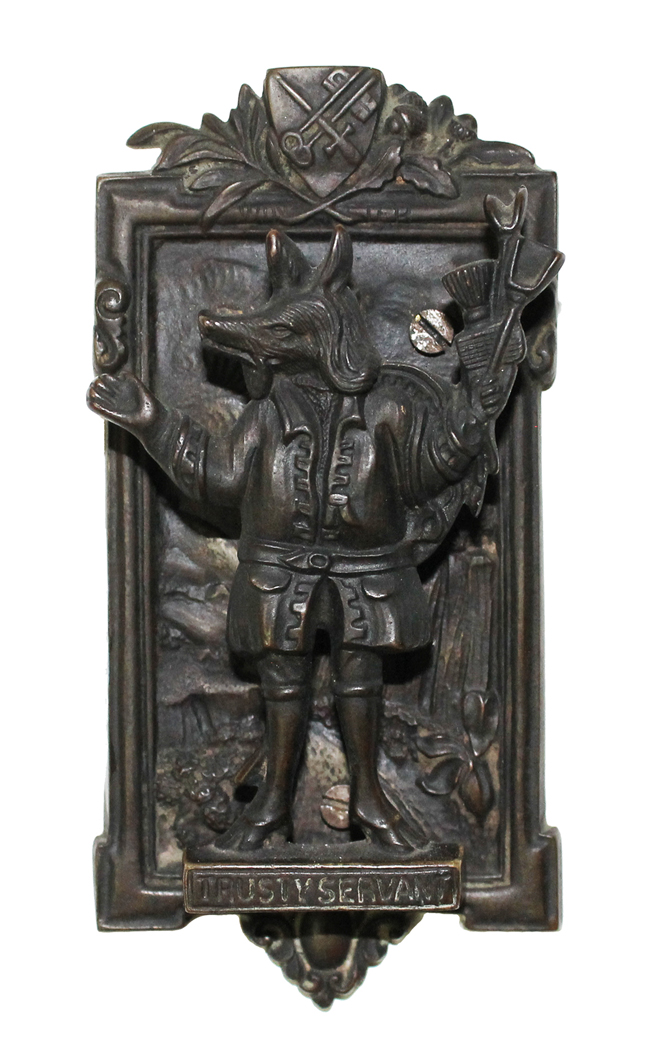 On the door to Alice Longfellow's second floor bedroom is this curious brass knocker. At first glance it appears to be in the form of an anthropomorphized fox, but closer examination reveals a much more unusual creature with cloven feet and a pig-like snout. The figure is a representation of a hircocervus, a being that combines the physical attributes of a man, deer, pig and donkey.
The figure is equipped with articles emblematic of its role as an ideal servant. In its proper left hand are tools relating to domestic work, including a broom and dustpan or ash shovel. It also wears a shield on its left arm and a sword on its back, items symbolic of the servant's role as a protector. Finally, a padlock hangs from the figure's mouth, representing the servant's ability to keep its master's secrets. The whole image is summed up by the words below its feet "Trusty Servant".
The origins of this strange creature can be traced back to the Greek philosopher Aristotle, but this particular hircocervus is modeled after a 16th century painting that hangs in a hallway at Winchester College in England. The shield above the figure's head features the arms of the Bishopric of Winchester. The door knocker dates to the early 20th century, and was possibly acquired by Alice Longfellow during one of her trips to England. She visited Winchester in 1904, and perhaps viewed the painting that inspired the knocker's design.