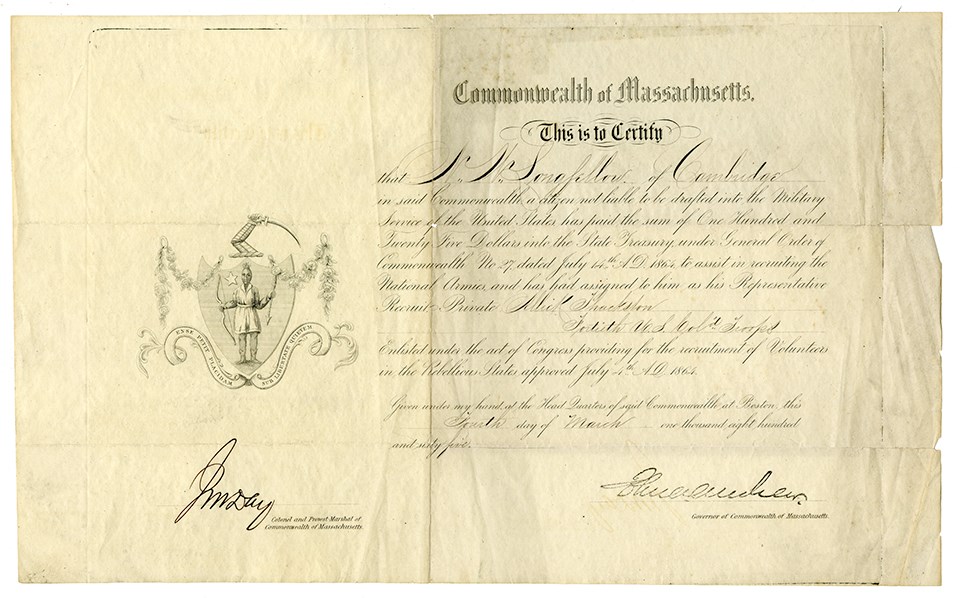 In 1865 Henry Wadsworth Longfellow paid $125.00 to the state treasury of Massachusetts to assist recruitment efforts for the Union armies in the Civil War. One of these efforts focused on recruiting Black men to fill the ranks for what had become a long, drawn-out conflict between north and south. The Union officially began to enlist Black soldiers after President Lincoln's Emancipation Proclamation took effect on January 1, 1863.
Although Longfellow was an avowed pacifist, he was also an abolitionist and a strong supporter of the Union, and he backed such causes financially. When the state of Massachusetts enacted General Order No. 27 in 1864 to help recruit soldiers from slave-holding states for the war effort it stated "'Representative Recruits' may be obtained through the Provost-Marshal, by persons making the same deposit of $125 for each recruit required." Longfellow opened his checkbook to answer the call and his contribution was acknowledged with the certificate pictured here.
Longfellow's "representative recruit" named on the certificate was Allick Thaxton, also referred to in records as Alex Thaxton or Ellis Thackston. He was from Huntsville, Alabama, and enlisted in the 40th Colored Infantry regiment in January 1865 at Nashville, Tennessee. He may have been an enslaved person prior to his enlistment, but this is uncertain. Thackston served until the 40th was mustered out on April 25, 1866. His unit saw limited service during the war and was mostly relegated to guarding railways in Tennessee. Its only recorded action with enemy forces happened before Thackston enlisted; an encounter with Confederate guerrillas on October 10, 1864, during which two of the 40th's soldiers were captured, and executed with an axe. Allick Thackston attained the rank of sergeant and served until the regiment was mustered out on April 25, 1866. He was one of more than 185,000 Black men who served in the Union Army and helped propel it to ultimate victory in the Civil War. The record is unclear as to what happened to him after his military career.