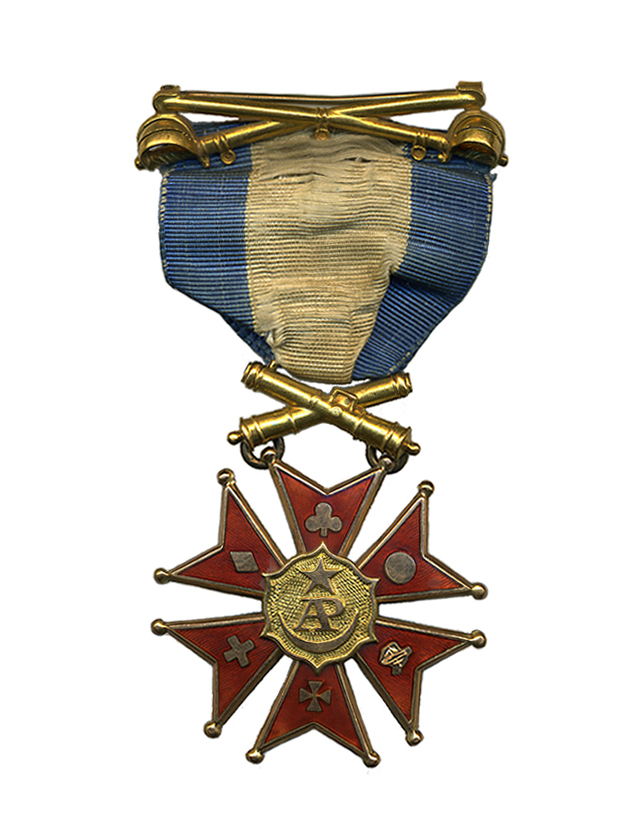 Several members of the extended Longfellow family served in the army during the Civil War, including Henry W. Longfellow's son Charles, his nephew Stephen, and his wife's half-brother Nathan Appleton, Jr., to whom the medal pictured above belonged.

Nathan Appleton, Jr. was born February 2, 1843 and at age 20 he joined the Army of the Potomac as an officer in the Fifth Massachusetts Battery.  He saw action in several battles including the Wilderness, the Mine Run campaign (in which his cousin Charles Longfellow was wounded), and at Spotsylvania.  After the war Nathan was active in veterans' groups, including the Grand Army of the Republic and the Society of the Army of the Potomac.  This medal was a symbol of his membership in the Society of the Army of the Potomac. 
The Society of the Army of the Potomac held its first reunion on July 5, 1869 in New York.  It was created as a fraternal organization with the aim of commemorating Civil War veterans and preserving a record of their actions during the war.  Membership in the Society was open to those who had served in the Army of the Potomac.  Nathan Appleton joined in 1871, and in 1889 he was elected Vice President of the Society of the Army of the Potomac to represent the Fifth Army Corps.  The Society held reunions up until 1927, but by Appleton's death in 1906 membership had dwindled to only 350 individuals. 
The medal is made of 14 karat gold and red enamel, with a blue and white ribbon.  Each of the medal's six rays features the symbol of a different corps from the Army of the Potomac.  Appleton was a member of the Fifth Corps, represented by the Maltese cross on the central-bottom ray.  In the center of the medal is the Society's emblem, the letters AP with a crescent underneath and a star above.  Many of these medals were made by Bailey, Banks and Biddle jewelers of Philadelphia.  When the National Park Service assumed operation of the Longfellow House, this medal was found along with others in a cardboard box that had a pencil inscription reading "14 medals - Nathan Appleton Jr."