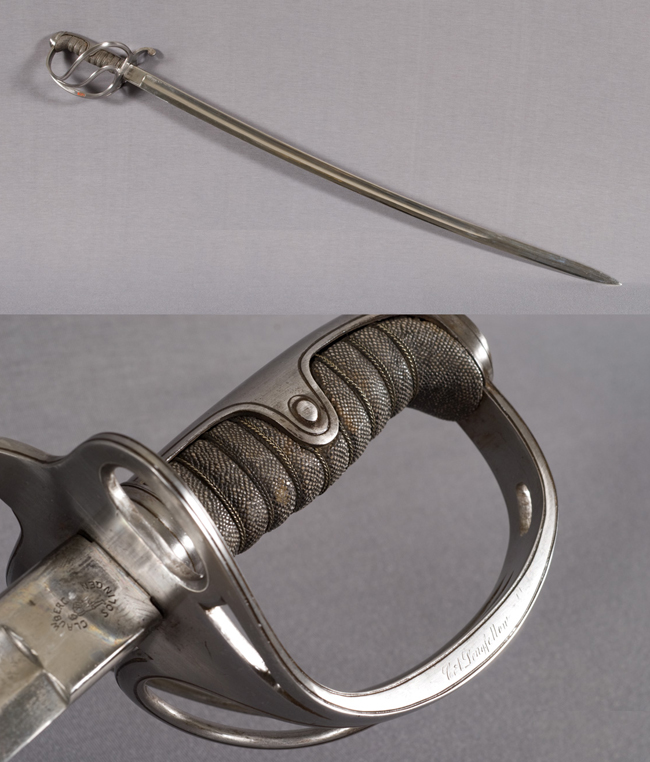 Shown above is one of Charles Appleton Longfellow's Civil War cavalry sabers. Charley, who ran away from home in 1863 at age 18 to join the army and fight in the war, was granted a commission as a lieutenant in the First Massachusetts Cavalry regiment. As a cavalry officer, he was required to furnish much of his own equipment, including horses, tack, and a cavalry saber.
Charley owned two sabers, both manufactured by the W. Clauberg firm of Solingen, Germany. One saber was fairly plain and unadorned and was likely worn by Longfellow when he was in the field. The other, pictured here, had a higher degree of finish and incorporated a fish skin covered handle, decorative work on the ricasso, and Longfellow's name engraved on the basket-style handguard. This saber is probably the one Charley wore when on parade, for reviews, and for other formal occasions. 
In the 19th century the Clauberg firm was regarded as a manufacturer of high quality blades. Thousands of Clauberg swords and sabers were imported to the United States during the Civil War, through both private purchase and US government contracts. Solingen, where the Clauberg firm was based, was long known as a center of sword manufacturing, its coat of arms even features a pair of crossed swords. The town is still heavily involved in the production of blades today, including knives, scissors, and other edged implements. 
Longfellow made no mention of actually using his sabers in battle during his brief military career. With advances in firearms technology, swords and sabers were falling out of use by the 1860s. In the US Civil War cavalrymen generally preferred guns, such as the newer repeating rifles and revolvers, to blades. Charley kept his sabers after his service, and used them to decorate his sitting room in the family's Brattle Street home. The sabers stayed in the house until becoming part of the National Park Service's museum collections in 1972.