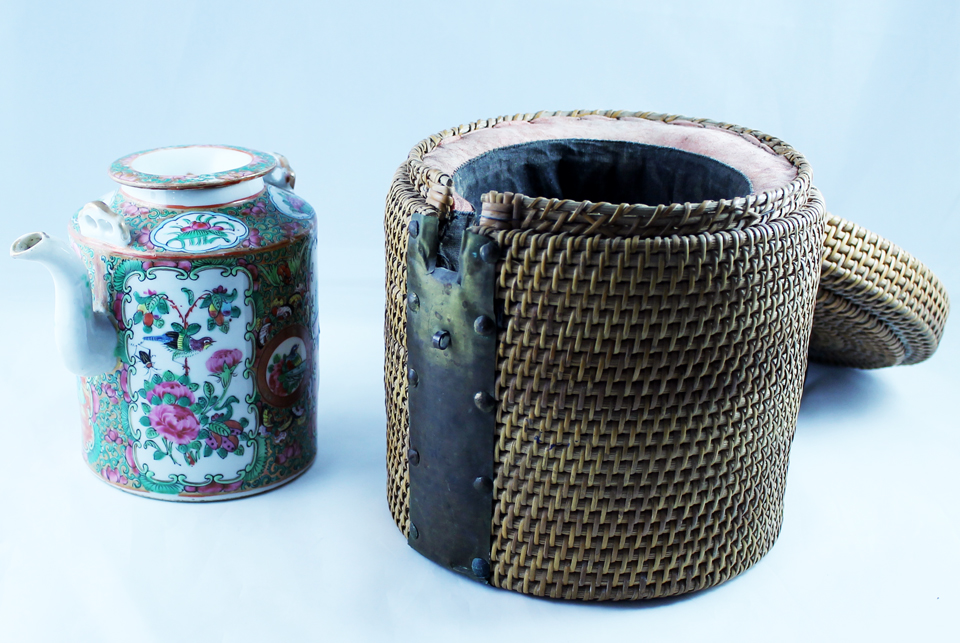 This tea caddy was, according to family lore, associated with Charles Appleton Longfellow. He probably acquired it when he visited China in 1873. Longfellow spent about four months traveling in China on his way home from Japan where he had been living for 20 months.

There are no discernible marks anywhere on the set, but Chinese porcelain was often not marked during the period of Charley's first visit in 1873, during the latter stages of the Qing Dynasty. The set consists of a pot, nicely painted with scenes of birds, insects, flowers and at least one scene of people in a garden or other outdoor setting. The basket is of tightly woven wicker or rattan with a metal clasp to keep it shut, and it has thick padding inside which both protects the porcelain teapot from damage, and also helps insulate it to keep the tea inside warm for a longer period. Note that one would not need to remove the pot from the basket in order to pour the tea, as the basket has an opening for the pot's spout to stick out.

The importance of tea in Chinese culture is hard to overstate, it has been traditionally regarded as one of the "seven necessities" needed in Chinese life in order to properly begin one's day, the other six being firewood, rice, oil, salt, (soy) sauce, and vinegar. Tea has for long been a drink steeped in special traditions and customs in China, as well as being one of the most important products associated with China. Tea consumption became so widespread in Europe and the West in the 18th and 19th centuries that it helped spur the growth of the Chinese porcelain industry, leading to the widespread manufacture and export of items such as this tea caddy.