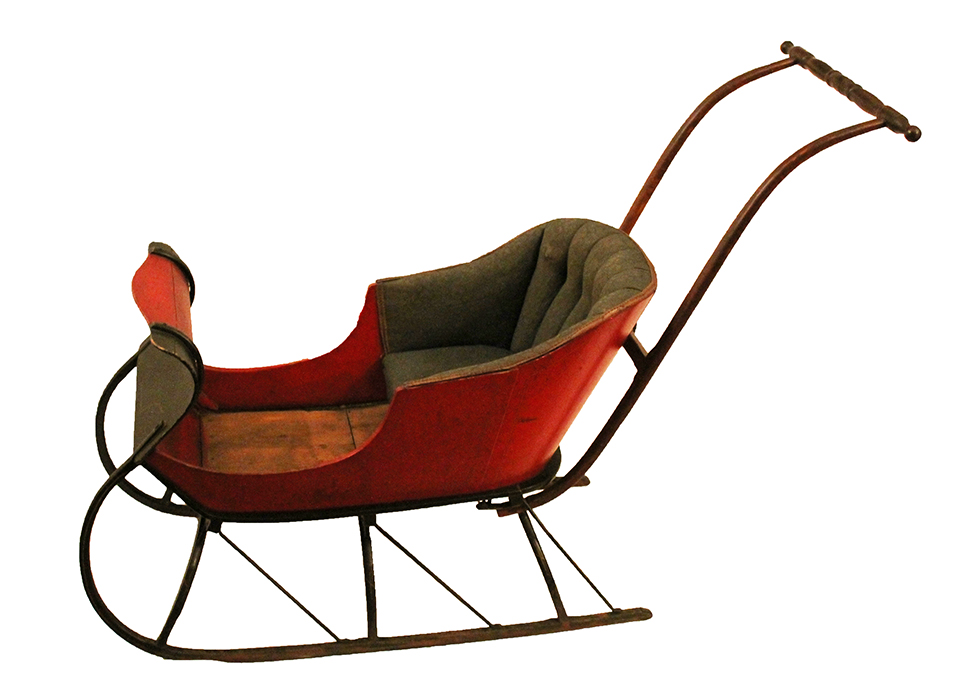 With forecasts of possible snowfall on the horizon thoughts of winter activities, such as using sleighs, start to enter the mind. This child-sized push sleigh, so named because of the bar attached to the back for pushing the sleigh along, was built by the Paris Manufacturing Company of South Paris, Maine, and probably dates to right around 1900.
The Paris Mfg. Co. started operations in 1861 when Henry Morton began hand-making sleds in his home. His wife, and later son, would paint the sleds by hand, making each one a unique piece. By the turn of the 20
th
 century the business had expanded to include hundreds of employees who made thousands of sleds and sleighs every year.
This particular sleigh is modeled after full sized sleighs, and shares many of the same characteristics, such as a single seat board and a curved "gooseneck" dash, as a type known as the Portland Cutter, a design that also came from Maine. This child's sleigh also features a seat upholstered in green quilted wool with a floral pattern, red and green paint with gold pin striping, and steel-lined runners.
Based on the estimated date of manufacture, it seems likely that the sleigh belonged to one of Henry Wadsworth Longfellow's grandchildren. Longfellow's daughters Edith Dana and Annie Thorp both lived on Brattle Street with their families, and both Danas and Thorps had multiple children who would have been of an appropriate age to own this sleigh.