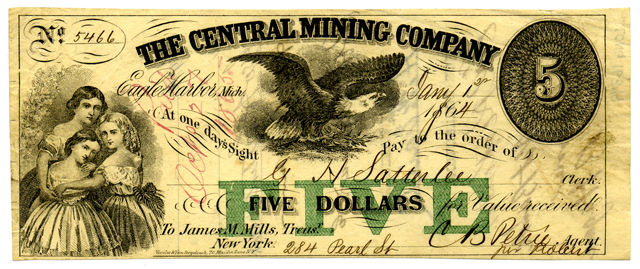 This month's object is a piece of 1864 privately issued currency from the Central Mining Company, sent to Henry W. Longfellow's grandson Harry Dana by an acquaintance in 1939.  The Central Mining Company was formed in 1854 to mine copper in Michigan's Keweenaw Peninsula.  The company continued operations there until 1898.  Michigan produced more copper than any other state in the Union for most of the latter half of the nineteenth century.
Many corporations, especially transportation and mining companies, printed their own currency, often referred to as scrip. Scrip was produced to create an exchange system for these companies' remote operating locations. It was redeemable for goods or services provided by the issuer, often at a company store. The Keweenaw Peninsula was one such remote spot in the mid 1800s. Located at the northern tip of Michigan the winter climate was harsh, and access was often only possible by ship across the Great Lakes.
You might find the image of the three young girls pictured on the left side of the note familiar, it's a facsimile of the famous portrait of Longfellow's three daughters; Alice, Edith, and Anne Allegra, by artist Thomas Buchanan Read. The original portrait now hangs in Longfellow's dining room in the Brattle Street mansion that was his home for almost fifty years. The portrait, painted in 1859, was often used as an accompanying image to Longfellow's poem The Children's Hour, published in 1860. As a result, it became widely known and copied, and used for a variety of purposes, as on this piece of scrip.