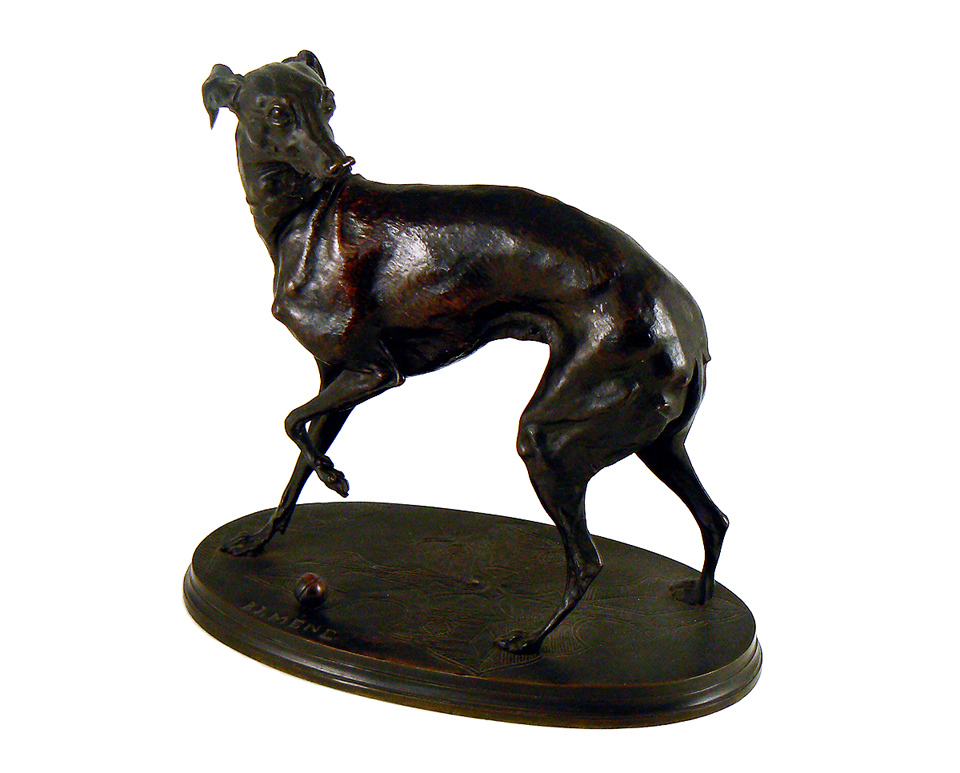 In 1849 Frances Longfellow received an early New Year's gift from Henry of a bronze greyhound statuette, almost certainly the same one pictured above. She mentioned the gift in a November 26, 1849 letter to her close friend Emmeline Wadsworth, writing "I have a darling little bronze greyhound given me for New Year in advance – by Henry . . ." The Longfellow family often exchanged gifts to mark the coming of a new year. For some reason, in 1849 Henry decided to get a jump on 1850, and give his gift to Fanny more than a month early.

Inscribed on the sculpture's base is the name "P.J. MENE". Pierre-Jules Mêne was a French sculptor in the mid-19th century and was a highly regarded animalier, an artist skilled in creating works representing animals. Mêne specialized in small scale sculptures of domestic animals, such as horses and dogs like the one shown here. He began casting his works in bronze in his own foundry by 1837 and worked throughout his life, winning multiple awards until his death in 1879.

Assuming this piece is the same bronze greyhound referenced by Fanny Longfellow in her letter, Henry Longfellow must have been one of the earlier American admirers of Mêne's work. Mêne does not seem to have formally exhibited his work outside of France until a showing in London in 1849, the very year Henry gifted the sculpture to Fanny. The piece continued to be exhibited in Longfellow's house after Fanny's death, it is visible in an 1871 photograph in the same location it now occupies – the fireplace mantle in the library.