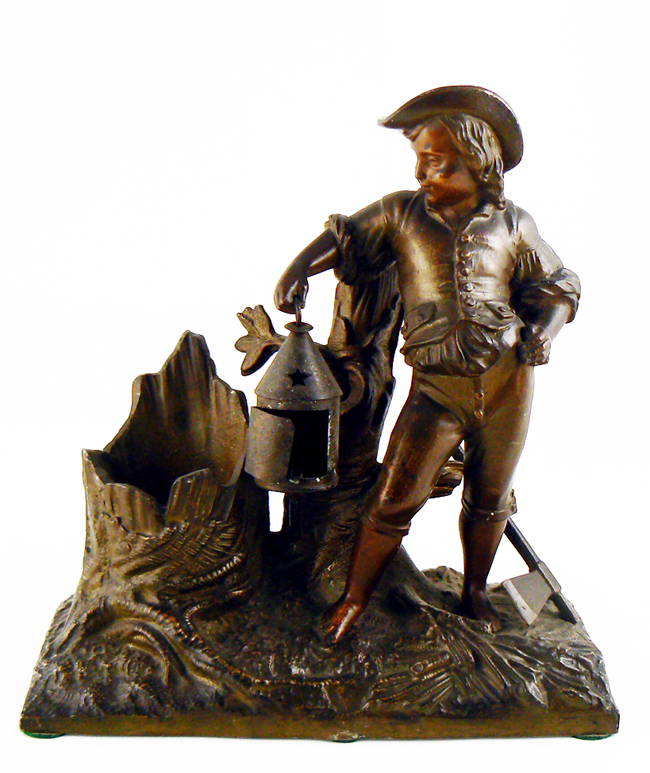 Pictured above is a figural cigar holder that is today exhibited in Henry Wadsworth Longfellow's library. Made of bronze, it depicts a young man leaning against the stump of a tree while holding a lantern, with an axe propped up against the tree behind him. We know it was used as a cigar holder by Longfellow because he recorded in his journal the occasion of the piece being gifted to him. On January 17 in 1847, Longfellow wrote "Dined at Uncle Sam's… Aunt Sam gave me a present, a peasant boy holding a lantern and a hollow tree near him full of cigars."
Uncle Sam was Samuel Appleton, brother of Longfellow's father-in-law Nathan Appleton and uncle to Longfellow's wife Fanny. Aunt Sam was Appleton's wife, Mary Lekain Gore Appleton. Longfellow had become friendly with "Aunt Sam" even before he was married to Frances Appleton. 
As the holder has no markings, we do not know the identity of the manufacturer, or if the depicted scene is symbolic of anything in particular. We can say with certainty though that Longfellow enjoyed smoking cigars. References to smoking abound in Longfellow's journal and letters, and smoking was one of his fondest habits. In April of 1838, not too long after Longfellow took up residence in the Brattle Street mansion that he would later come to own, Henry wrote "Tired of everything and everybody. I must take to cigars again, for society, silent associates who consume themselves –burn themselves quite out in one's service."