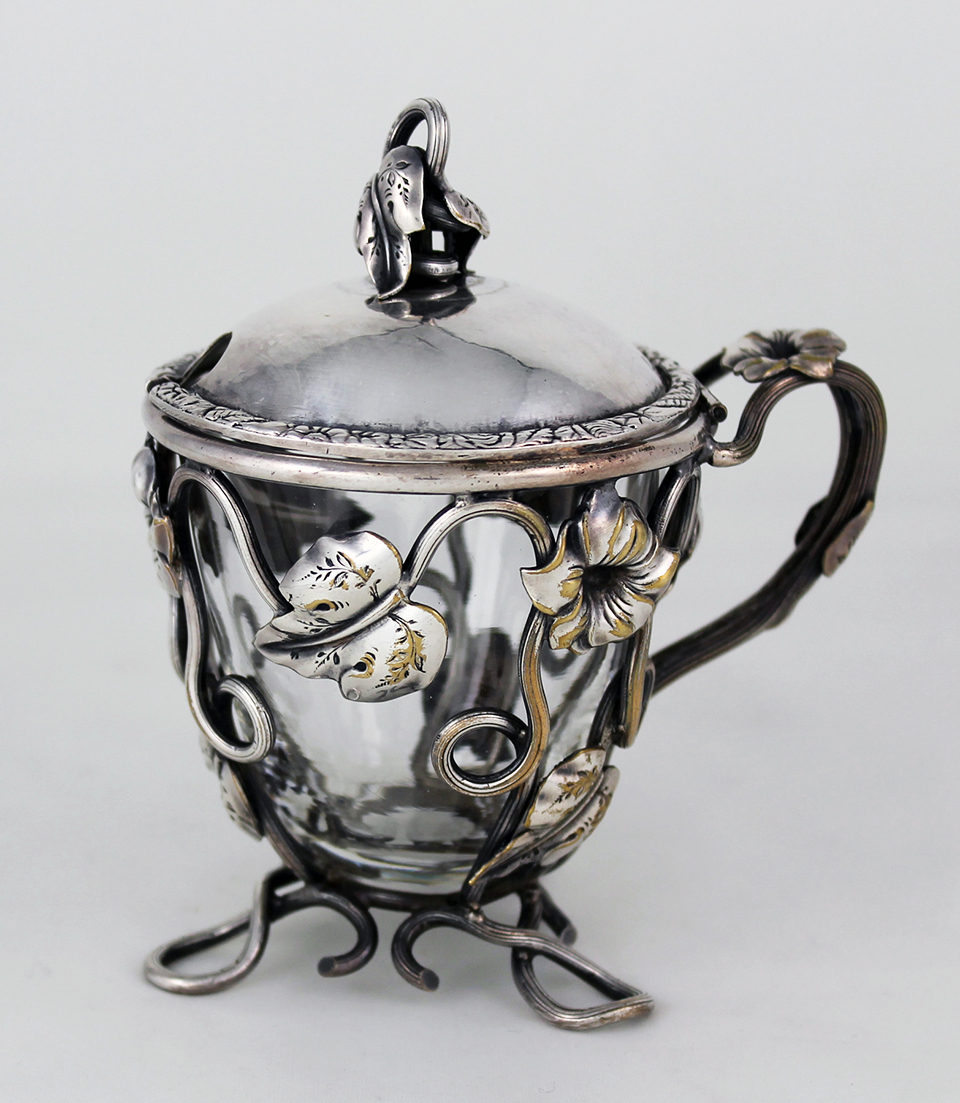 This Art Noveau style plated silver and glass mustard pot features sinuous vines with leaves and flowers that encase and form the feet and handle for a glass bowl. A domed, hinged plated silver lid topped by a small finial of a curved vine with two more leaves attached features a small hole for a spoon.
Mustard pots first became widely used in the mid-18th century when the "wet" form of mustard more familiar to us today, sort of like that stuff so popular in the U.S. that squirts out of a yellow bottle, became more popular than the earlier "dry" form which was essentially a powder of ground seeds to be combined with other ingredients. With the growing popularity of wet mustard came the demand for a suitable receptacle from which to serve it, hence the mustard pot. Silver was an especially popular material from which to make mustard pots in the 18th and 19th centuries, though almost all would have gilt interiors or a glass liner to ensure the mustard and nothing mixed with it damaged the metal.
The Art Noveau characteristics of this mustard pot roughly date its manufacture to somewhere between 1880 and 1910. The style took its inspiration from nature, the winding vines and flowers featured in the design of this pot were an especially popular motif. Originating from earlier British artistic movements, Art Noveau designs quickly became popular in France, Germany, and the U.S., but the style was not a particularly long-lived one, falling out of favor early in the 20th century.

Based on the date range of manufacture, this mustard pot almost surely belonged to Alice Longfellow, the poet's daughter and primary resident of the Brattle Street mansion from 1882 to her death in 1928. The mustard pot is listed in the 1912 inventory of the house's dining room contents and described as "1 Mustard Pot with open vine pattern with glass bowl." Due to the lack of markings, we cannot be sure where the pot was made. Alice could have bought it in the U.S. or on one of her multiple trips to Europe in the late 19th and early 20th century.