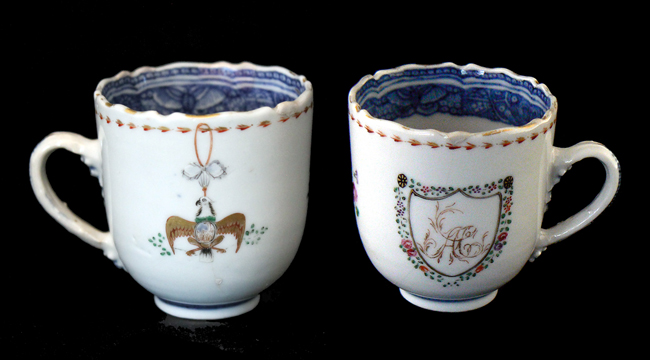 These two small tea cups have a connection to the house that predates Henry Wadsworth Longfellow's residency, as they once belonged to Andrew Craigie.
Born in Boston, Andrew Craigie became the first Apothecary General of the Continental Army in 1777.  After leaving the army in 1783, he engaged in the real estate business and various other speculative dealings, eventually becoming extremely wealthy.  In 1791 he purchased the house on Brattle Street that had served as George Washington's headquarters during the Siege of Boston.  Craigie developed the property and was known for his lavish entertaining. Bad business deals though resulted in massive debt and Craigie reportedly spent his last years confined to his house in an effort to avoid debtors' prison before dying in 1819.  
The tea cups pictured above are among the few pieces in the museum collections that Craigie once owned.  They feature his initials in a shield on one side, and the eagle emblem of the Society of the Cincinnati on the other.  Craigie was one of the original members of the New York State Society of the Cincinnati.  The cups, of porcelain imported from China, are a good example of the type of luxury item Craigie would have had in his home.  The eagle design is much the same as that on china owned by George Washington when he was the first President of the United States, and Washington also served as the first president of the Society of the Cincinnati from its inception in 1783 until his death.  The cups were likely acquired by Henry Wadsworth Longfellow at the estate sale held after the death of Craigie's wife, Elizabeth, who died in 1841.