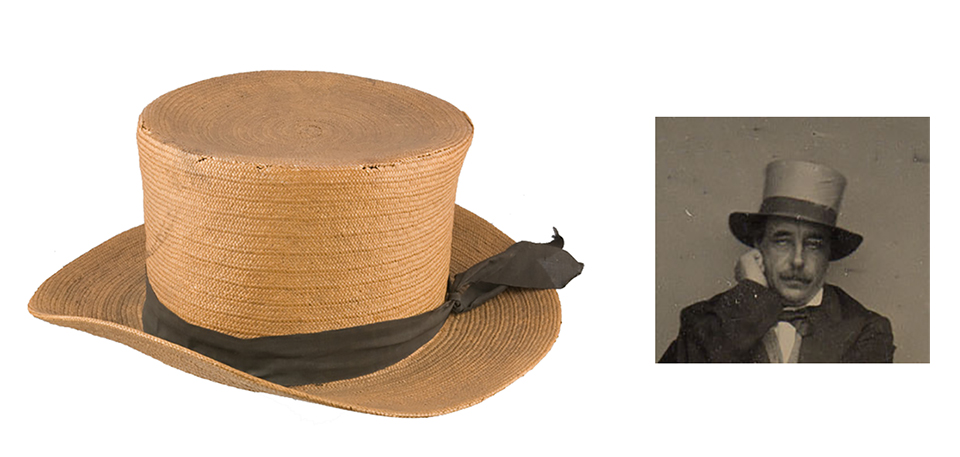 Have you ever heard of National Straw Hat Month? Yes, it really is a thing, and April is the month! In order to mark the occasion this month we feature one of the many hats in the collection, along with an image of Henry W. Longfellow's brother-in-law Thomas Gold Appleton wearing a similarly styled one.
Straw hats were very popular with both men and women during the 19th century. The raw material, straw, was cheap and plentiful, and a well-made straw hat could provide protection from both sun and rain. Straw hats could be utilitarian such as those made for people working outside in the fields, or fashionable like those worn by the more wealthy segments of society. Hat making operations sprung up all over the U.S. during the 1800s, and at one time the second largest straw hat making factory in the country was located in the town of Medfield, Massachusetts, not too far from Longfellow's Cambridge home.
The hat pictured here is of a type often called a "topper", and is one of two in our collection, both of which were found by NPS personnel in the Longfellow House attic in the 1970s. Constructed of tightly woven straw, the hat has a leather headband on the interior, and a decorative black cloth or ribbon around the outside. It was a popular style of hat for men in the mid-19th century, as demonstrated by the picture of Thomas Gold Appleton, taken in the 1860s, showing him wearing a very similar piece.