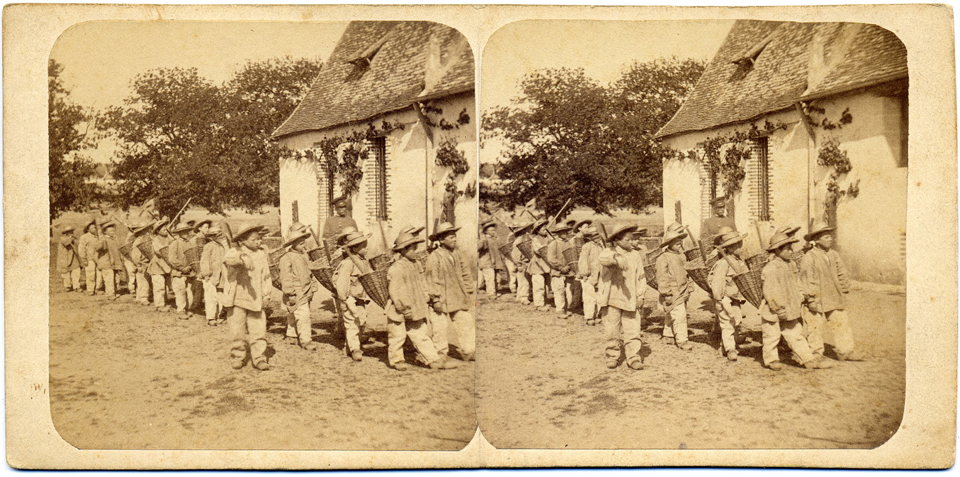 The beginning of September means a return to school for many children in the United States. Though many of them may regard the resumption of classes with some dread, they almost surely won't have to deal with the hardships endured by the boys shown in this late 19
th
century stereograph card.
The image depicts boys at the Mettray Penal Colony in Mettray, France. The colony was a reformatory for delinquent boys, and upon opening in 1840 it was hailed as a revolutionary form of detention and rehabilitation. Co-designed by French lawyer Frédéric–Auguste Demetz and architect Guillame-Abel Blouet, it lacked walls and housed its inmates in "homes" inhabited by about forty boys each who were under the supervision of two adults. The colony provided schooling for the boys, and also required them to perform manual labor, often of an agricultural nature.
This stereograph card was probably acquired by Alexander Wadsworth Longfellow, Jr., nephew of the poet, during his extended visit to France from 1879 to 1881. Stereograph cards were very much in fashion at the time, and were often acquired as souvenirs of places visited.
The Mettray Penal Colony was still in operation during Longfellow's trip to France and existed until 1937 when, under criticism for its harsh treatment of inmates coupled with financial difficulties, it finally closed. By the early 20th century, the colony had lost much of its reputation as a "progressive" system of incarceration. French writer and activist Jean Genet, who spent two and half years there as a teenager in the 1920s, referred to Mettray as "a hard- labor camp –that's all it was!"