Directions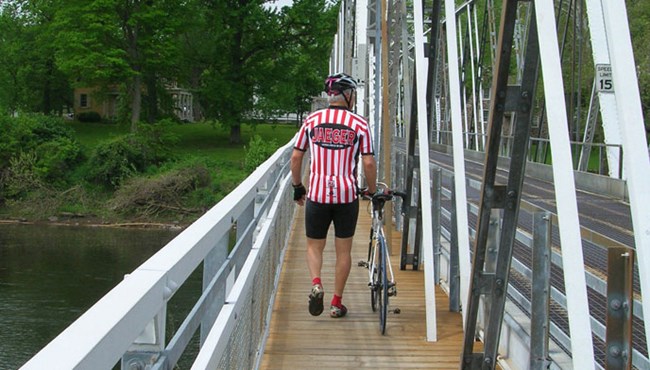 The Lower Delaware National Wild and Scenic River is located between Interstate 80 (at Portland, Pennsylvania and Columbia, New Jersey) and Interstate 95 (at exit 51 in Washington Crossing, Pennsylvania and exit 1 in Washington Crossing, New Jersey).
In Pennsylvania, follow PA-611 and PA-32 to drive along the river.
In New Jersey, follow NJ-29 south of Frenchtown for a drive along the river.
Bridges
Toll bridges (operated by the Delaware River Joint Toll Bridge Commission) cross the Delaware River at the following locations:
Interstate 78 - Easton PA to Phillipsburg NJ
US 202 - New Hope PA to Lambertville NJ
Free bridges cross the Delaware River at the following locations:
Northampton Street - Easton PA to Phillipsburg NJ
Delaware Road - Riegelsville PA to New Jersey near the Musconetcong River
Bridge Street - Upper Black Eddy PA to Milford NJ
Bridge Street - Uhlerstown PA to Frenchtown NJ
Bridge Street - Center Bridge PA (south of Lumberville) to Stockton NJ
Bridge Street - New Hope PA to Lambertville NJ
Washington Crossing Pennington Road - Washington Crossing PA to Washington Crossing NJ
Additionally, a pedestrian bridge connects Lumberville PA to Raven Rock NJ


Last updated: March 14, 2015