Sonny Boy Williamson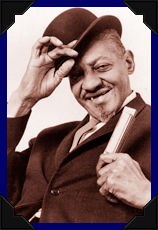 According to his gravestone, Rice Miller was born March 11, 1897, in the country between Glendora and Tutwiler, Mississippi. He was raised by his mother Millie Ford and stepfather Jim Miller, and acquired the nickname "Rice" as a young child. Miller, who was interested in music as a toddler, taught himself to play harmonica at the age of five. Interestingly, W.C. Handy heard early blues played on a train platform in Tutwiler about this same time. Miller became quite adept at the harmonica, playing spiritual music at parties for tips as a child. As he grew older, he began playing spirituals at schools and street corners as "Little Boy Blue." During the 1920s he left his parents' home and began to hobo, playing blues to support himself.

Miller hoboed through Arkansas, Mississippi, Tennessee, and Missouri during the 1920s, playing levee and lumber camps, juke joints, and parties. He claimed to have made unissued test recordings in the late 1920s, but these have never been found. During the 1930s Miller teamed up with guitarists Elmore James and Robert Johnsonfor short periods. He also developed a partnership with a young Johnson protégé, guitarist Robert Jr. Lockwood. During the late 1930s, Jackson, Tennessee, harmonica wizard John Lee "Sonny Boy" Williamson recorded several hits including "Good Morning Little School Girl" and "Bluebird Blues" for the Bluebird label in Chicago. During the early 1940s, Rice Miller began calling himself "Sonny Boy Williamson" and responded to anyone who questioned it that he was "the original Sonny Boy."

As Sonny Boy Williamson, he and Lockwood auditioned for executives of Interstate Grocer, the makers of King Biscuit flour, in the Interstate Grocer Co. Building. Interstate Grocer agreed to sponsor the pair and in 1941 they began broadcasting from the Floyd Truck Lines Building on KFFA radio. King Biscuit Time was arguably the most influential radio show in blues history, reaching as-yet unrecorded blues artists Muddy Waters, B.B. King, Howlin' Wolf, and Jimmy Rogers, as well as the large Delta blues audience. As remuneration for hawking King Biscuit flour and cornmeal, Williamson was allowed to announce his upcoming gigs on the air. He became an established star throughout the Delta and recruited guitarist Joe Willie Wilkins to augment the group.
Last updated: October 27, 2017