Rev. Robert Timothy Wilkins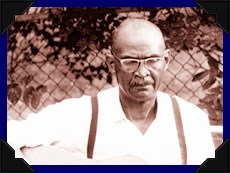 Born January 16, 1896, in Hernando, Mississippi, twenty-one miles below Memphis, Wilkins was raised on a farm and assumed his stepfather's surname of Oliver at the age of two. Tim Oliver learned the rudiments of guitar circa 1904 from his stepfather, who occasionally entertained Jim Jackson as a houseguest. At the age of fifteen Tim Oliver reassumed the surname Wilkins and moved to Memphis to find work. He served in the Army during World War I but returned to Memphis in 1919 to become a professional musician.
Wilkins worked in Memphis during the Roaring Twenties, sharing billing with Furry Lewis, Memphis Minnie (whom he claimed to have tutored), Son House, and other musicians for local shows. He also organized a jug band to capitalize on the "jug band craze" then in vogue; like Sleepy John Estes's Three J's Jug Band or Frank Stokes's participation in fiddler Will Batt's string band, this was a necessity for obtaining well-paying gigs. Though never attaining success comparable to the Memphis Jug Band, Wilkins reinforced his local popularity with a 1927 appearance on a Memphis radio station, a distinction shared by few of his peers. Like Estes and Stokes (and unlike Gus Cannon of Cannon's Jug Stompers) he recorded alone or with a single accompanist. His first sessions for the Victor label in 1928 yielded the droning, one-chord "Rolling Stone," whose title, if not structure, later inspired Muddy Waters. In September 1929, Wilkins recorded for the Brunswick label in Memphis's Peabody Hotel, where he waxed the notable "That's No Way To Get Along," a song he would record later as "The Prodigal Son." In contrast to his previous recordings, this session and a follow-up in February 1930 demonstrated a pronounced diversity of song styles, tunings, and time signatures.
The recording industry was hit hard by the Great Depression and as sales slackened, so did recording opportunities. Wilkins continued to play Memphis during the early 1930s, with occasional stints in the medicine show wagon and an informal appearance at the 1933 Chicago World's Fair. In 1935, he was offered an opportunity to record for the Vocalion label in Jackson, Mississippi, with Little Son Joe and "Kid Spoons." The output was a varied collection of song styles, including "Old Jim Canan's," a celebration of the gambling parlor formerly located at 340 Beale Street. Several years after this session, the teetotaling Wilkins played a house party in Hernando that turned violent. Distraught over the affair, he became an elder of the Church of God in Christ and began playing gospel music, albeit with a blues "feel."
The "Reverend" Robert Wilkins was rediscovered by blues enthusiasts during the 1960s blues revival, making appearances at folk festivals and recording his gospel blues for a new audience. His distinction among bluesmen was his versatility; he could play ragtime, blues, minstrel songs, and gospel with equal facility. Unlike many of his contemporaries he was not bound to a style, nor was he linked to a trademark song as Charley Patton was to "Pony Blues."
Robert Wilkins died May 26, 1987.

Old Jim Cannans

Recorded by Rev. Robert Wilkins in 1935

Date created:

2020-10-14 00:00:00.0
Last updated: October 27, 2017