Jim Jackson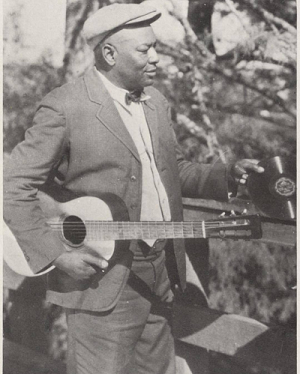 Born circa 1884, in Hernando, Mississippi, a small town twenty miles south of Memphis, Jackson was raised on a farm. Jackson's father taught the youth to play the guitar, a skill he would use to earn a living. Local guitarist Frank Stokes was also an influential figure to young Jackson. Around 1905, Jackson gained employment as a singer, dancer, and musician in medicine shows. The medicine show was a time-honored American tradition that employed entertainers to draw a crowd to a tent or wagon where vendors hawked alcohol-based patent medicines. By 1912, Jackson was playing local dances, parties, and fish fries, often pairing with Gus Cannon of Cannon's Jug Stompers or fellow Hernando native Robert Wilkins.

Jackson began traveling with minstrel shows in 1915, performing with the Silas Green Minstrels, the Rabbit Foot Minstrels, and the Abbey Sutton show intermittently until 1930. Minstrel shows, which had been popular during the nineteenth century, featured dancers, musicians, magicians, and comedians under a tent. Jackson was a favorite; his large stage presence, stentorian voice, and friendly demeanor drew substantial crowds whether from a stool, soapbox, or flatbed truck. Like Leadbelly, Jackson had command of hundreds of songs including blues, ballads, vaudeville numbers, and traditional tunes of the nineteenth century. He has been called the greatest repository of pre-blues songs among all recorded musicians.

When not traveling with minstrel shows, Jackson played the clubs on Beale Street, W.C. Handy's stomping ground in Memphis. Teaming with Gus Cannon or younger players such as Furry Lewisand future Memphis Jug Band guitarist Will Shade, Jackson played Pee Wee's, Big Grundy's, and possibly the Monarch Club. His popularity and proficiency landed him a gig at Memphis's prestigious Peabody Hotel in 1919.

In 1927 Jackson's performing popularity led noted Jackson, Mississippi, talent scout H.C. Speir to sign him to a recording contract for the Paramount Record Company. Believing Jackson to be a "cocaine head," Speir sold the contract to talent scout Loren Watson of the Vocalion label. In Chicago, on October 10, 1927, Jackson waxed one of his most requested tunes, "Jim Jackson's Kansas City Blues, Parts 1 & 2," for Vocalion. Released in December of that year, it was one of the most popular blues titles ever released. Latter day record collectors have discovered many surviving 78s of the song, prompting speculation that it was one of the first million-selling records. Vocalion rushed Jackson back into the studio in January 1928 for a follow-up session that included "Kansas City Blues, Parts 3 & 4" and eight other titles. Perhaps because of his increased popularity, Jackson moved to Memphis that month, living at 1150 Grant Street on the city's north side. Later that year the Victor label sent a field recording team to the Memphis Auditorium where Jackson recorded the bawdy "I'm Wild About My Lovin'" and the comic "I Heard the Voice of a Pork Chop," two songs of likely medicine show origin.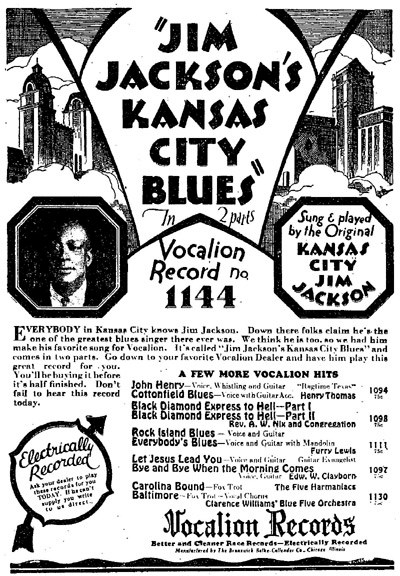 Jackson's recorded material is firmly rooted in nineteenth-century style and structure. Certainly his guitar-strumming technique distinguishes him from younger finger-picking contemporaries like Furry Lewis, Robert Wilkins, and Tampa Red. Likewise, Jackson's recorded blues lack the personal viewpoint of later musicians such as Charley Patton, who recorded a version of "Kansas City Blues" as "Going To Move To Alabama"; instead, Jackson relied upon the comedic twists, old familiar themes, and lyric couplets known to much of his audience. Jackson's popularity gained him an appearance in King Vidor's all-black, 1929 film Hallelujah! His popularity was phenomenal - he waxed fifty titles in less than three years - but it quickly waned with the onset of the Great Depression. Jackson's last recording session was in February 1930, and soon afterward he moved back to his hometown of Hernando. During the 1930s, Jackson continued to perform in traveling shows with occasional appearances in Memphis.

Jim Jackson died in Hernando, Mississippi, in 1937.
I'm Wild About My Lovin'

Recorded in Memphis, Tennessee on August 27, 1928 by Jim Jackson
I Heard the Voice of a Pork Chop

Recorded in 1927 by Jim Jackson
Last updated: October 27, 2017