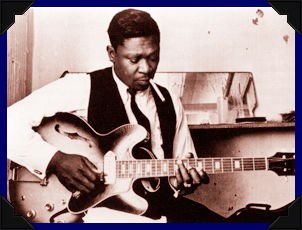 Born on September 16, 1925, on a plantation near Itta Bena, Mississippi, King was one of five children. His parents separated when he was four, and he moved with his mother to the hill country town of Kilmichael, Mississippi. Her death in 1935 forced Riley to move in with his maternal grandmother, who taught him to sharecrop. An aunt with a Victrola gave him an early introduction to records by blues greats Lonnie Johnson and Blind Lemon Jefferson.
King's first exposure to music was gospel singing in church. Archie Fair, a sanctified preacher from a local Pentecostal church, played the first electric guitar King ever heard. Fair taught him a few chords, but the youngster's voice was his favorite instrument. He soon formed his first gospel group, the Elkhorn Jubilee Singers. In 1940, King's grandmother died and he briefly returned to his father's custody before returning to his mother's relatives, the Hensons, in Kilmichael.
While in Kilmichael, he learned to drive a tractor and used the proceeds of his work to buy his first guitar. King was inducted into the army within months of his eighteenth birthday and fulfilled his service requirements driving a tractor on a Mississippi Delta plantation that had military contracts for cotton. He walked to Indianola on the weekends to hear live music by Robert Nighthawk, Duke Ellington, and Count Basie. At Jones' Night Spot (now Club Ebony), King first saw bluesman Sonny Boy Williamson backed by Robert Johnson protégé Robert Jr. Lockwood on guitar. Williamson was a popular performer on the King Biscuit Time radio program, broadcast on radio station KFFA from the Floyd Truck Lines Building in Helena, Arkansas. King soon started another gospel group, the Famous St. John Gospel Singers, and managed to appear on local radio stations in Greenville and Greenwood. He also played his guitar for tips at the corner of Church and Second Streets in Indianola.