Understanding the Past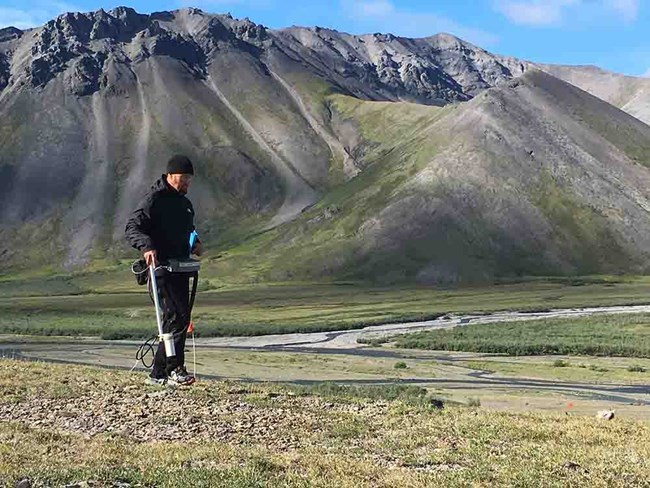 Alaska Native communities and cultures are integral to the landscapes of Alaska's national parks. Study of the environment cannot be fully understood without embracing the centuries-long relationships that Alaska Native families have with Alaska's ecosystems. These relationships are as widespread and diverse as the cultural landscape.
Learning about and documenting Alaska Native cultures through oral history, linguistics, Alaska Native art and literature, archaeology, ecology, and biology, is critical to the management of national park lands. It requires building relationships based on trust and mutual appreciation with Alaska Native communities. In addition, the NPS Subsistence Program prioritizes local knowledge through Regional Advisory Councils and NPS Subsistence Resource Commissions, which are made up of local rural residents.

One way we learn about and share Alaska Native history and knowledge is to record stories and descriptions of everyday life and activities through oral history interviews. A popular oral history method used by national parks in Alaska are called place name studies. Using maps, drawings, and audiovisual equipment, park anthropologists work with Alaska Native communities to record the special meanings that language and stories convey about geographical locations. Language and history help us understand people's relationship to the environment. NPS researchers make an effort to visit special places with local cultural experts in order to better appreciate their connection to the land. How we perceive the locations of significant events or day-to-day natural resources all have deeper meaning in fulfilling the NPS mission. (Subsistence, Stories, and Place Names of the Upper Kuskokwim River Project).

Traditional ecological knowledge, often referred to as TEK, is the knowledge and expertise that indigenous groups gained of their environment over hundreds or thousands of years of observations and experiences with their lands, waters, and wildlife. TEK is passed down through generations. Park scientists work with Alaska Native communities to document TEK through interviews and focus groups. Recording the communities' deep knowledge of the environment and observations of changes over time helps parks better understand history and nature. (Climate Change Project Jukebox | Digital Branch of the University of Alaska Fairbanks Oral History Program (uaf.edu)).

Alaska Natives are leaders in researching their own cultural studies and cultural continuity. In the face of changes to their homelands caused by development and climate change, and as it becomes more difficult to pass down history and traditional skill sets to younger generations, Alaska communities recognize the importance of documenting cultural practices for future generations. The NPS can assist with this research and documentation.
Last updated: November 15, 2021