Pets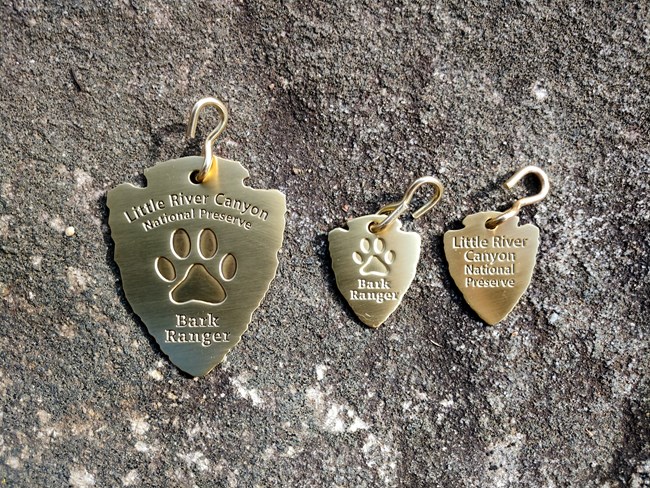 Be a Little River Canyon B.A.R.K. Ranger!

National parks are exciting places for pets to visit with their family while on vacation or while getting some good healthy exercise in the great outdoors. Little River Canyon National Preserve is a dog-friendly park, with four-legged friends welcomed on all trails and at the Canyon Center. Now, you and your canine can show the world that you're a responsible steward of the environment by becoming a BARK Ranger!
BARK Ranger is a program to teach dog owners about the benefits of visiting the park and being a responsible and respectful admirer of your public lands with a dog.
Best of all, it's easy to do - you just have to follow the rules of
BARK
:
Bag your waste
Always wear a leash
Respect wildlife
Know where you can go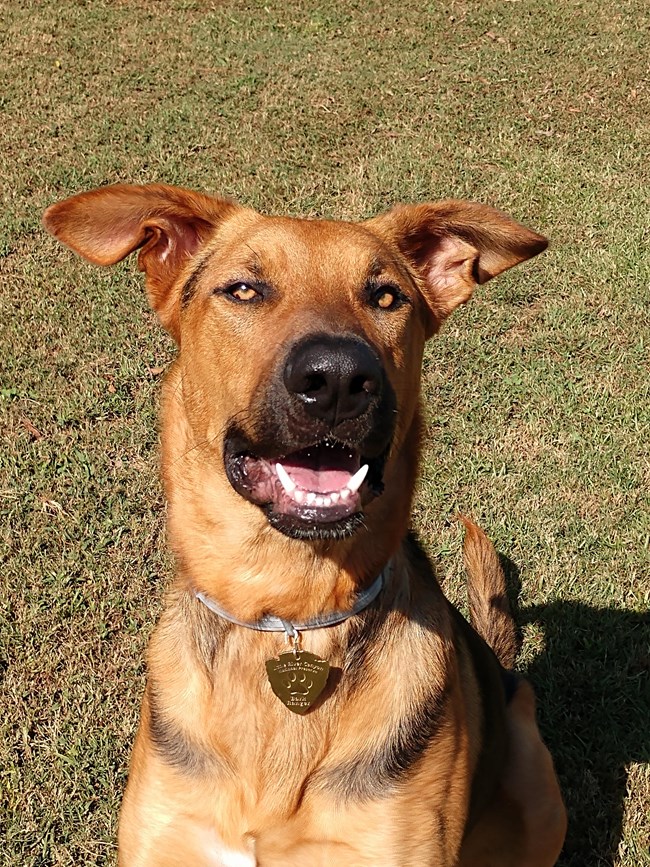 How does my pup become a BARK Ranger?
Pick up the BARK Ranger handout at the Canyon Center information desk, complete the checklist, and return it to the Canyon Center. Show the staff member working the desk a picture of you and your dog demonstrating the BARK Ranger principles, sign the checklist, and receive your official Little River Canyon National Preserve dog tag!
* Dog must be present to receive the tag.
BARK Ranger tags come in two sizes for big and little dogs. This program is part of the Healthy People Healthy Parks Initiative.
Become a BARK Ranger today!
* BARK Ranger Tags are Back in Stock!
Enjoying the Park with Your Best Friends
Little River Canyon National Preserve has many scenic spots and open spaces for you and your pet to enjoy together. Whether you share a tranquil riverside stroll or a hike into the canyon, always be aware of your surroundings and considerate of others. It takes a cooperative effort to make the Preserve safe and comfortable for everyone. Pets are welcome in the Little River Canyon Center.
When you bring your dog to the park, please remember:
To take plenty of water and food, for you and for your dog
To clean up after your dog
To never leave your pet unattended
To keep your dog on a leash and under control
Why Should Your Dog Be on a Leash?
For the Safety of Your Dog
Your dog can become trapped or injured while running, digging or jumping. Your dog could get bitten by a venomous snake or even another dog. Your dog can be exposed to ticks, poison oak, poison ivy, poison sumac or other plants that have thorns or burrs. With a leash, your pet will be less likely to encounter these dangers.
For the Safety of Wildlife
Animals may be flushed out of nesting sites or burrows by your dog. A dog's quick dig can destroy a wild animal's home.
For the Safety of People
Some people, particularly children, are afraid of dogs – even friendly ones.
It's the Law
Federal, state and county laws* require dogs to be on a leash. Please be aware that leashes, even retractable ones, must be six feet or less in length.

* Title 36 Code of Federal Regulations, Part 2.015(a)(2). This regulation helps us protect and preserve the natural landscape.
Whether it is a hike on a trail, a picnic at Canyon Mouth, a stop on the rim, or a splash in the river, Little River Canyon is a pet-friendly place. Your pets are welcome here, but to protect other visitors, wildlife, and your pets themselves, please remember the following:
Regulations:
Pets are allowed in all areas of the park, including the Little River Canyon Center
Pets MUST be leashed (6 foot / 2 meter or shorter leash) at all times, including while in the water.
You must clean up your pet's poop and dispose of it in a garbage can or take it home and dispose of it there.
Pets may not be left unattended.
Safety Tips:
Take plenty of water and food, for you and for your pet.
Never leave your pet unattended, in or out of the car.
Keep your pet on a leash - for their safety! A leash helps keep your pet from getting lost, keeps wildlife and people who are afraid of dogs safe and happy, and prevents damage to the park. Failure to keep pets on a leash can result in a fine and could contribute to getting pets banned from the park.
Stay on the trail and be aware of where your pet is walking - Little River Canyon is home to poison ivy, ticks, hornets, and three venomous snakes.


Last updated: August 3, 2023