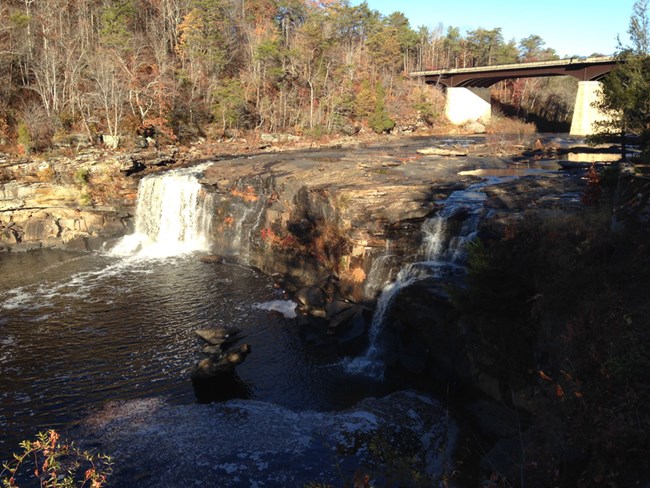 Little River Falls is a "MUST SEE" when you visit the Preserve. It is located near the Little River Canyon Visitor Center off Highway 35 next to the bridge in Gaylesville, Alabama (the bridge is the boundary between Gaylesville and Fort Payne). This is the first stop to make on your scenic tour of the park entering from the north. The formation of Little River Canyon begins here with the 45-foot waterfall.
The amount of water going over the falls depends on the amount of rainfall. In the winter and early spring the water level is high. Expert level Kayakers love to kayak the river. During the summer and early fall, the water level is much lower. No matter the season; Little River Falls is a very beautiful place to visit.

Always use extreme caution when the water is high and swift. You can be carried over the falls in seconds. Many rescues and even deaths have occurred here. The rocks can be very slippery. You must remain 50 feet from the edge of the falls (it is the law). Please do not climb on or over the rails/fencing; the barriers are there for your protection.

This area is closed after dark. No parking is allowed when the park is closed. Camping is not allowed in the park.
There is no charge for this area.